If you don't see a frame with a list of cars at the left, click here.

Honda Accord EX V6 Coupe
---
Price $26,000 (est)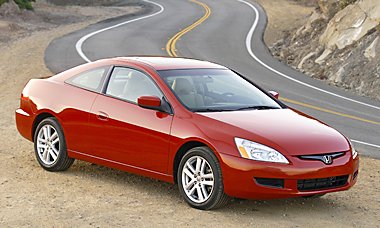 SPECIFICATIONS:
Engine type: SOHC VTEC 24 valve V-6
Displacement: 3.0L (2997cc)
Power: 240 bhp
Torque: 212 lb.-ft.
Redline: 6800 rpm
Transmission: 6 speed manual
Click here to see more specifications
PERFORMANCE:
0-60: 6.1 sec
0-100: 16.0 sec
0-150: n/a
1/4 mile: 14.8 sec @ 96 mph
Top Speed: 148 mph
This newest Accord is the most different Accord ever. It's the first Accord V6 to be offered with a manual transmission in the US, and not just a manual, it's a six speed. But that's not the only new thing, it's engine has been also upgraded with 40 more horses and 17 more pound-feet of torque. All that power mated to the manual transmission rockets this Accord to 60 mph in just 6.1 seconds, a bit faster than the Altima V6. Although the six speed is only avilable in the top-of-the-line EX Coupe, the sedan is still quite fast with the new 5 speed automatic. This new Accord also has the handling to match it's extra power, with 17 inch wheels shodded with 215/50R-17 tires. All these latest Honda products (3.2CL Type-S, Integra Type-R, Civic Type-R) are taking my hopes up for a much improved NSX in the near future (say 400 hp or more), so let's hope Honda is listening. Although the styling might take a little to get used to, it's still handsome to me. The rear tailights on the sedan are the biggest change in styling for a Honda, but I still like it, it looks very elegant. The coupe has a taillight treatment kind of like the new Mercedes CL. Whatever you think of the styling, the Accord doesn't stop from being one hell of a car.