If you don't see a frame with a list of cars at the left, click here.

Nissan 200SX SE-R
---
Price $16,749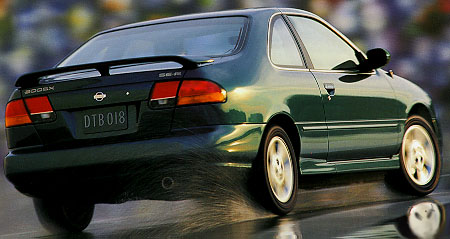 SPECIFICATIONS:
Engine type: DOHC 16 valves inline-4
Displacement: 2.0L (1998cc)
Power: 140 bhp
Torque: 132 lb.-ft.
Redline: 7100rpm
Transmission: 5 speed manual
Click here to see more specifications
PERFORMANCE:
0-60: 8.0sec
0-100: 21.2sec
0-150: N/A
1/4 mile: 16.2sec
Top Speed: 115 mph
The Nissan 200SX SE-R is one of those great little coupes. If you're looking for a sensible, low-buck transportation, there is a 200SX SE-R for you. Under the hood is a stout 2.0-liter dohc 16-valve four that makes 140 bhp, is redlined at 7,100 rpm and will make the little 200SX flat scoot. There is a manual-transmission gearing changed from the base 200SX for better acceleration, brakes are 4-wheel discs, tires become 195/55R-15 on 15x5.5-in. alloy wheels, suspension is tuned for a sportier feel, the steering wheel and shift knob are wrapped in leather, and so forth. It'll knock off 0-to-60 mph in just eight seconds flat, and it's just a blast to drive. There are very few cars that are a kick to drive and don't knock the bottom out of your wallet. The 200SX SE-R is one of the very best. It proves that just because you don't have a Ferrari or Porsche budget doesn't mean you can't have a blast driving, great handling high-performance car.
UPDATES: The SE-R is dropped for 1999.