If you don't see a frame with a list of cars at the left, click here.

Acura 3.2TL
---
Price $28,500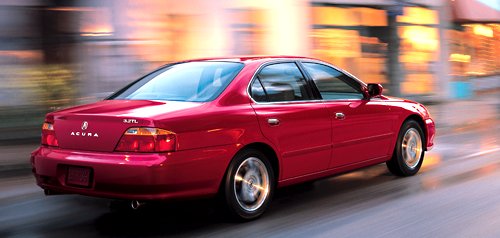 SPECIFICATIONS:
Engine type: SOHC VTEC 24 valve V6
Displacement: 3.2L (3210cc)
Power: 225 bhp
Torque: 216 lb.-ft.
Redline: 6300rpm
Transmission: 5-speed SportShift
Click here to see more specifications
PERFORMANCE:
0-60: 6.9 sec
0-100: 18.5 sec
0-150: n/a
1/4 mile: 15.5 sec
Top Speed: 142 mph
About four years ago, Acura introduced the replacement of the Vigor. But it didn't do too much of a good job there. It wasn't fast enough, it wasn't exciting, blah, blah (well, that's at least what car magazines said). But this new Acura TL is almost perfect. It has 225 horses which in my opinion are more than enough. Styling is a 10 and the ride is excellent. What this car lacks, is a manual transmission. Honda is making a mistake of not offering a manual transmission with the V-6 cars (excluding the NSX), but who knows what they are up to. Anyway, there's not much not to like about this car, it provides a good quality in fit and finish, and, typically Honda, good reliability. And all for a price that is quite good for what it offers. In fact, the only option is an in-dash navigation system.
UPDATES: The TL received some changes on the engine to produce more low-end torque. Horsepower and torque remain the same, though, only that they peak at different rpm. And it is now mated to a new 5 speed SportShift (Honda's version of Tiptronic) transmission. Performance is better now.