If you don't see a frame with a list of cars at the left, click here.

Ferrari F355
---
Price $137,000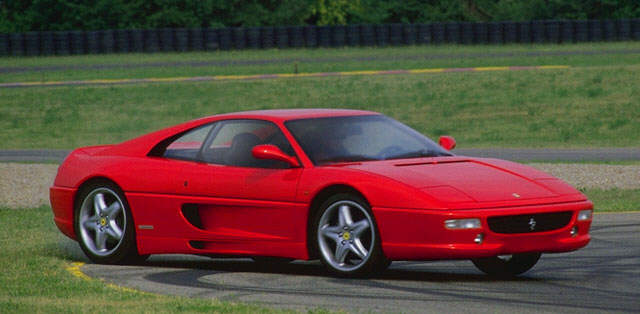 SPECIFICATIONS:
Engine type: DOHC 40 valve V-8
Displacement: 3.5L (3496cc)
Power: 375 bhp
Torque: 268 lb.-ft.
Redline: 8500rpm
Transmission: 6 speed manual / 4 speed automatic / 6 speed manumatic
Click here to see more specifications
PERFORMANCE:
0-60: 4.5sec
0-100: 11.2sec
0-150: 29.0sec
1/4 mile: 13.0sec
Top Speed: 179 mph (est)
Ferrari F355 Spider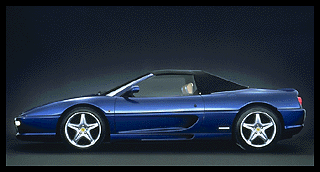 It would be easy to become overwhelmed with the grace and power of the 550 Maranello or the 456GT and even convince yourself that the mid-engien road car is perhaps an idea whose time has come and gone. But then you slip into the F355, head into the mountains and remember: The 550 and 456GT are GT cars. And a sports cars can be a very good thing. Especially with the top down on a crisp autumn day in Italy. The F355 is a car with wonderful balance and brakes and free-revving engine that produces great thrusting pulses of acceleration on a mountain road.
UPDATES: The time has come for this Ferrari. It will be replaced by a new model called 360 Modena, with a 400 bhp engine (always a V-8), and a estimated top speed of 186 mph. I'll have it here as soon as possible.
UPDATES: For those who prefer the 355, Ferrari will continue production of the 355 Spider, I guess untill there is a 360 convertible.