If you don't see a frame with a list of cars at the left, click here.

Acura 3.5RL
---
Price $44,567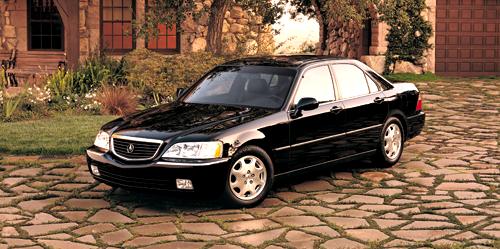 SPECIFICATIONS:
Engine type: SOHC 24 valves V-6
Displacement: 3.5L (3473cc)
Power: 225 bhp
Torque: 231 lb.-ft.
Redline: 5600rpm
Transmission: 4 speed auto
Click here to see more specifications
PERFORMANCE:
0-60: 7.2sec
0-100: 19.0sec
0-150: N/A
1/4 mile: 15.6sec
Top Speed: 143 mph
The world is a different place in Acura's 3.5RL sedan. It passes by like a silent movie, serene and somewhat distant. You watch it surrounded by luxury a sultan might envy.
And for good reason. For its flagship sedan, Acura has applied technology and amenities like a thick security blanket, one that smothers almost every imaginable intrusion or unpleasantry. The engine itself is tuned for torque, offering up 224 lb.-ft. at a truck like 2,800 rpm. The result makes good on Acura's aim to provide the 3.5RL with V-8 style acceleration away from a stop. It pulls effortlessly through the smooth shifting 4-speed automatic transmission equipped with Acura's Grade Logic Control.
If the world is getting you down, if you weary of the noise, confusion and rudeness, just take a drive in a 3.5RL. The world inside is silent and your every whim is catered to. Many of you may never leave.
UPDATES: The RL receives some changes, to make it a little more sporty. Starting from the engine, it recieves 15 more horses to 225 hp and 7 more lb.ft of torque. Handling gets better thanks to a sportier tuned suspension and wider tires (225/55R-16).