If you don't see a frame with a list of cars at the left, click here.

Ferrari 512 TR
---
Price $225,000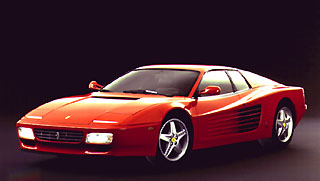 SPECIFICATIONS:
Engine type: DOHC 48 valves flat-12
Displacement: 4.9L (4943cc)
Power: 421 bhp
Torque: 360 lb.-ft.
Redline: 7250rpm
Transmission: 5 speed manual
Click here to see more specifications
PERFORMANCE:
0-60: 4.7sec
0-100: 10.2sec
0-150: 27.8sec
1/4 mile: 12.9sec
Top Speed: 192 mph
In this car the first thing you'll notice is its outrageous low and wide profile set off by monstrous rear tires. The door sills are so wide, it's hard to climb in and there is little rear visibility. But this blood-red 512TR has enough mystique for 10 cars, offers surprising civility, yet delivers stunning, endless power. Despite the quirky gated shifter, the clutch is light and the car moves effortlessly toward twice the speed limit. As a true Ferrari, it is exotic, refined and blingingly fast. No matter what gear you're in, the 512TR always seems to have more to come.