If you don't see a frame with a list of cars at the left, click here.

BMW 540i Sport
---
Price $56,512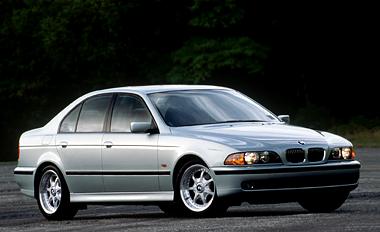 SPECIFICATIONS:
Engine type: DOHC 32 valves V-8
Displacement: 4.4L (4398cc)
Power: 282 bhp
Torque: 324 lb.-ft.
Redline: N/A
Transmission: 6-speed manual
Click here to see more specifications
PERFORMANCE:
0-60: 5.5sec
0-100: 13.2sec
0-150: 34.7sec
1/4 mile: 14.0sec
Top Speed: 155 mph
I was going in the backseat of my uncle's BMW 540i Sport, heading for the Deep Creek Lake in Pennsylvania, at about the 55 mph limit, and all of a sudden, the speedometer starts to move fast, I look back and a Cadillac was trying to race us. Without much effort, he shifts into 3rd gear and the Cadillac starts to look very small through the rear window. The 540i is an incredibly fast car, fast enough to beat the new Porsche 911 Carrera to 150 mph. If you don't believe me, check Car and Driver's August issue (1998) and see it for yourself.
This car's smoothness left no choice for me but to sleep during the rest of the trip to the lake, and I have to say that it was a very comfortable trip. Acceleration from 0 to 60 mph comes in just 5.5 seconds, 100 mph in 13.2 seconds, and 150 in 34.7 seconds, and for a sedan, 34 seconds is really fast. So if you see a car like this one, don't try to race it, unless you are driving a car that goes to 150 mph in less than 30 seconds.