If you don't see a frame with a list of cars at the left, click here.

Ferrari 550 Maranello
---
Price $200,000 (est)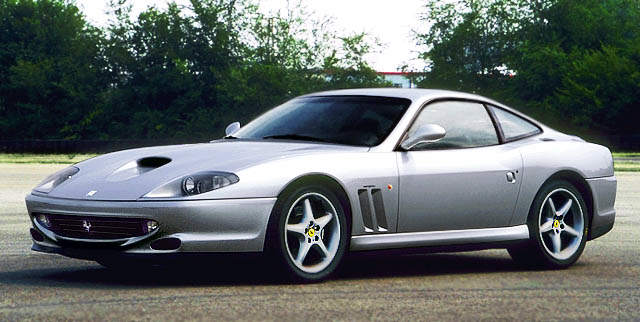 SPECIFICATIONS:
Engine type: DOHC 48 valve V-12
Displacement: 5.5L (5474cc)
Power: 485 bhp
Torque: 419 lb.-ft.
Redline: 7700rpm
Transmission: 6 speed manual
Click here to see more specifications
PERFORMANCE:
0-60: 4.3sec
0-100: 9.9sec
0-150: 22.2sec
1/4 mile: 12.6sec @ 116 mph
Top Speed: 195 mph
550 Rear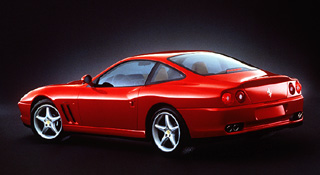 The 550 is a traditional front-engine, rear-drive car that harks back to the glory days of the GTO and Daytona coupes, and yet it replaces the mid-engine 512 TR as Ferrari's current production supercar. It has one of the best V-12 engines I've ever seen and performs just how it is: a Ferrari. It'll take you to 60 mph in 4.3 seconds (and actually, I think that it will go fasted if it is pushed hard). The quarter-mile comes just at 12.6 seconds and it will reach 150 mph in less than 23 seconds. If you are looking for a super fast, cost-no-object, gloious noise-making, good-looking car, your choice is the Ferrari 550 Maranello.