If you don't see a frame with a list of cars at the left, click here.

Porsche 911 Carrera
---
Price $68,000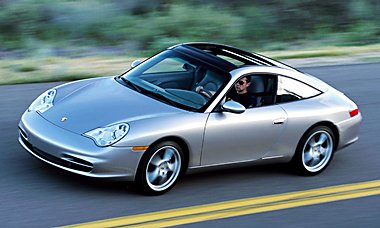 SPECIFICATIONS:
Engine type: DOHC 24 valves flat-6
Displacement: 3.6L (3596cc)
Power: 315 bhp
Torque: 273 lb.-ft.
Redline: 7000rpm
Transmission: 6 speed manual / 5 speed automatic
Click here to see more specifications
PERFORMANCE:
0-60: 4.6sec
0-100: 10.7sec
0-150: 27.8sec
1/4 mile: 13.1sec @ 108 mph
Top Speed: 180 mph
The 911 has changed in 1998 with a new and redesigned body. Structurally, the new 911 is substancially more rigid (45% more in twist, 50% more in bending) and it is 110lb. lighter as well. Yet these differences are completely masked by its longer wheelbase. The 911's slower motions result in a drama-less, easy matching of counteer angle to tail wag. No problem. In fact, dynamically, everything about the 911 is clearly better -the steering is that much more precise, the brakes register feel even earlier in the pedals travel. But one thing that stays is when it accelerates, the faster it goes, the slower it accelerates relative to others. Compared to the NSX, acceleration times from 0 to 60 are 4.8 (3 tenths of a second slower than the NSX), a mere 12.3 seconds and it arrives to 100 mph (almost two slower), and at the 1/4 mile speed, the 911 is at 104 mph and the NSX is at 110 mph. If they accelerate to 150 mph from a standstill, the NSX would arrive at 28.2 seconds, and the 911 would take 38.2 seconds (all as tested by Car and Driver... Aug - 1998). That is probably because of the 6 speed manual gear ratios. But then again, the 911 continues to be one hell of a piece of machinery.
For 2002 the 911 Carrera was updated with more power and a different fascia. The headlights are rounder, matching the 911 Turbo look. The engine was enlarged to 3.6 liters and now produces 315 bhp. Acceleration has improved a lot, so the above reference no longer applies.