If you don't see a frame with a list of cars at the left, click here.

Porsche 911 Turbo S
---
Price $164,510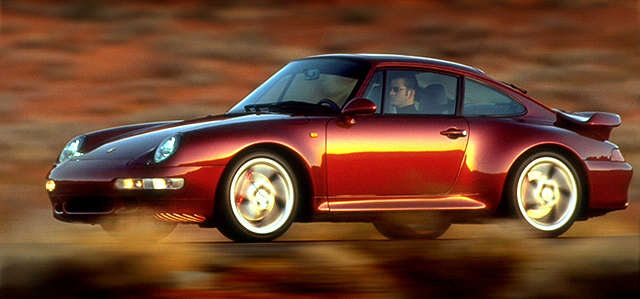 (911 Turbo shown here)
SPECIFICATIONS:
Engine type: SOHC 12 valve flat-6 twin-turbo and intercooled
Displacement: 3.6L (3600cc)
Power: 424 bhp
Torque: 400 lb.-ft.
Redline: 6800rpm
Transmission: 6-speed manual
Click here to see more specifications
PERFORMANCE:
0-60: 3.7 sec
0-100: 8.8 sec
0-150: 23.4 sec
1/4 mile: 12.2 sec
Top Speed: 180 mph
This special edition 911 Turbo S, is what Porsche has learned over the years, with people that are plain too rich to be satisfied with a sports car that costs only, say, $105,000. That's the price for 400 bhp 911 Turbo (1997 version). And only 200 of these will be for the U.S. at a price of $164,000. Filled up with 424 bhp (the highest power output from a production engine ever sold on the US by Porsche) and a lot of refinement, this is a blast to drive car. It is soft enough to go on traffic, and New York rush-hour. And when you have the opportunity on a winding road, a 6th to 3rd downshift will bring infinite hard acceleration up to 180 mph. Handling is superb, given its all-wheel-drive layout. Turbo boost won't upset the tires' grip, since Porsche has added an electronic management system that smoothes the turbo's boost. Everything about this car is what you'd expect from Porsche and even more.