If you don't see a frame with a list of cars at the left, click here.

'95 Honda Accord EX
---
Price $27,000 (El Salvador)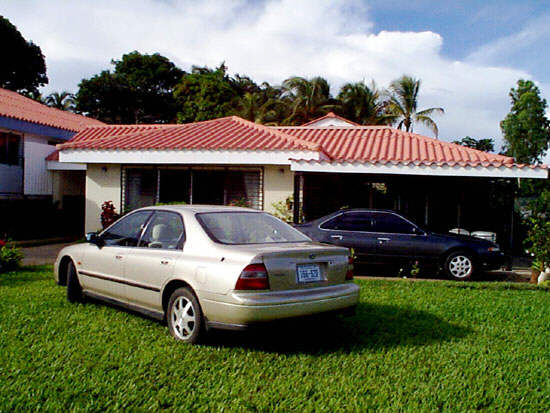 SPECIFICATIONS:
Engine type: SOHC 16 valve inline-4
Displacement: 2.0L (1997cc)
Power:135 bhp
Torque: 133 lb.-ft. (est)
Redline: 6300rpm
Transmission: 5 speed manual
Click here to see more specifications
PERFORMANCE: (est)
 0-60: 8.5 sec
 0-100: 26.5 sec
 0-150: NA/A
 1/4 mile: 16.7 sec
 Top Speed: 122 mph
   We have owned this car since June 1995 and believe me, it's always ready to go. Honda's ability to make reliable cars has helped my dad to buy Hondas since I was just a baby. The first one was a '77 white 2-door Accord with a 1.6 liter engine. It produced around 66 bhp but it pulled pretty well. The next one was an '85 dark gray Accord LX with the 1.8 liter engine. Both cars are still running always ready when it's needed. Two of my uncles drive 'em now. Now we have two Hondas, this Accord and a '92 Civic with a 92 bhp 1.5 liter engine. Although I don't really know how fast this Accord is, it feels pretty fast. The engine note sounds like the NSX's when revved hard, and it doesn't even has VTEC. After four years, it barely has about 25K miles. Noises are nonexistent, albeit for some coming from the Bridgeston Potenza tires. At this moment, it's riding on the standard 195/60R-15 that came with it, but I'm trying to convince my dad to replace them all with 215/50R-15's.
UPDATE: Well, my dad sold the '95 Accord, to buy a '00 Accord EX-R. EX-R means the same as EX does in the U.S. It has some nice 15" wheels with lousy 195/65 tires. It would look much better with 215/50's or 215/55's. Previously we had the 92 Civic EX sedan but we changed it for a '96 Civic EX coupe with the VTEC engine (127hp). We already changed the wheels, which look really good. Now I'm in the process of waiting for the 185/65 tires to die to change them with something more like 195/55 or 205/55. The wheels are 14" so I don't expect this to be an easy job.