If you don't see a frame with a list of cars at the left, click here.

'96 Honda Civic EX Coupe
---
Price $7,314 (Used)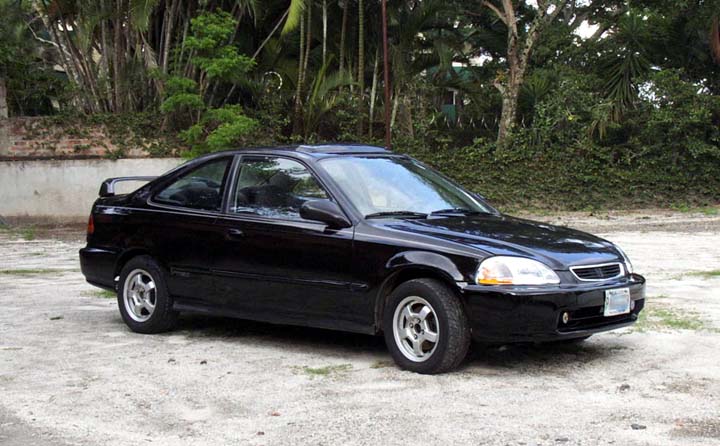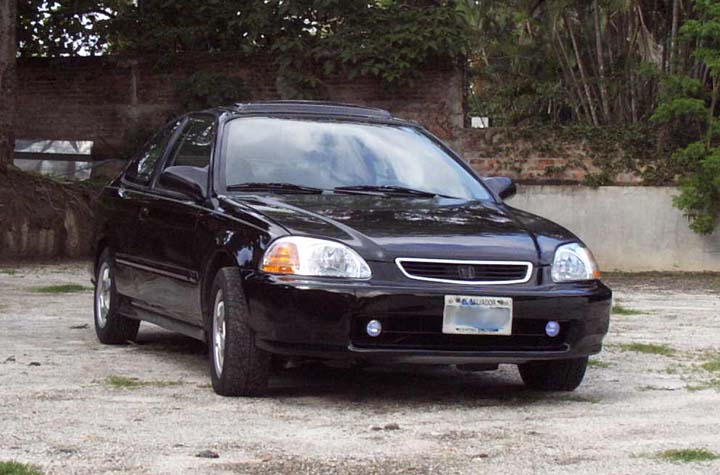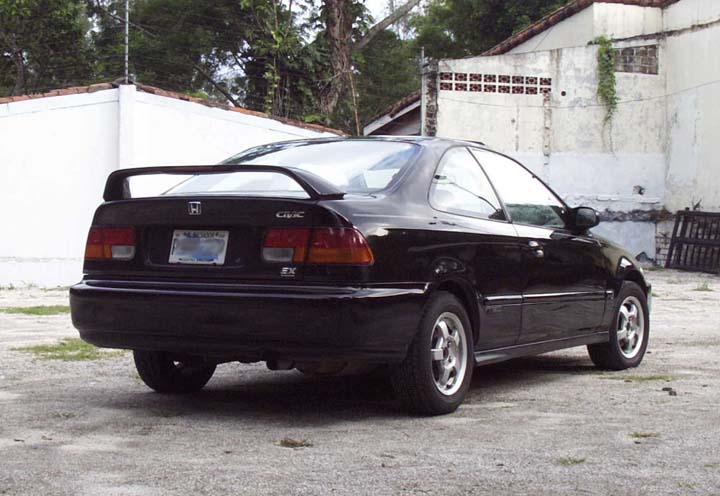 SPECIFICATIONS:
Engine type: SOHC VTEC 16 valve I-4
Displacement: 1.6L (1590cc)
Power: 127 bhp
Torque: 107 lb.-ft.
Redline: 6900 rpm
Transmission: 5 speed manual
Click here to see more specifications
PERFORMANCE: (stock)
0-60: 8.2 sec
0-100: 25.6 sec
0-150: n/a
1/4 mile: 16.6 sec @ 85.4 mph
Top Speed: 113mph (el. limited), 122 mph (without limiter)
PERFORMANCE with performance intake and shifting @ 7500 rpm
0-60: 7.9 sec
0-100: 24.7 sec
1/4 mile: 16.4 sec @ 86.1 mph
Top Speed: 113 mph (el. limited)
This is a car that really likes to be pushed hard. Although it has many defects, I love this car and I know it likes to run and break loose the tires whenever it is possible. Right now it has 65,000 miles but it still rides really well. Because power comes on at 6600 rpm, and torque at 5500 rpm, the power band is pretty small, but shifting at the 7500 rpm fuel cutoff gives the best acceleration times without hurting the engine, thanks to its free-revving nature. Anyway, I'm thinking about installing an freer flow intake system, which is supposed to give me around 2-5 more horsepower, puttin me in the league of the 200SX SE-R. Also I'm thinking of installing wider tires, (yes, it still has the 185/65 tires). As of now, nothing new has been put in the car, but wait and see...
UPDATES: Well, I installed the intake and now the engine makes a sweet sound that I would never change for a muffler or anything. I think the exhaust sounds just the way I like it, so no aftermarket muffler is necessary, although I could use the extra power. The intake alone does not improve performance by much, it has to be accompanied by a header and exhaust... as you might already know, but the low flow of money is not good for that kind of practice, so I'll just stick to my filter alone for a while. I also installed the tires, although they are not exactly much wider (195/60R-14), because I couldn't find a nicer setup for the 14" Mangels. As for music power, I have installed a Sony CDX-480C CD unit, a pair of Pioneer six-inchers in front and JDLX 6"x9" in the rear. Also a 600 watt amp with a pair of 8" 300 watt woofers give the kicks (small kicks at that). Again cash-flow limited. In my future projects I can mention finding better tires and maybe 16" wheels. Then perhaps getting a 4-2-1 header and hopefully an Acura Integra Type R... well that's the car I really wish I had. Oh, and the closest possible one, a ground effects kit, but one that's not so showy, one that just makes it look a little different from the stock look. The wing is the factory original, so it's staying.
UPDATES: A few things have changed... first I put some kind of stickers on the headlights, that is instead of the ususal plastic eyelids some people buy. I did this because I have never liked big headlights, and I wanted a little more aggressive look. I like it, so they are staying. (I removed those, but this is what they looked like. Also, I changed the CD player because the previous Sony was too skippy on rough roads. Now I have a Sony CDX-L450. Speakers and Amp remain the same, except for the Subwoofer which I changed for a 12" Sony Xplod with 900 Watts of max power output. Sounds good enough for me. I had to replace the tranny a while back because it was making weird noises and was useless anyway.
UPDATES: More things have changed. After some research, I bought a new set of tires, now it has Falken tires of the same size, but the difference in performance is outstanding. These tires grip the road like no other tire I have ever owned. Another change is CD player, again, now I have a Pioneer DEH-3150. The difference in sound is much better than the Sony could provide, and it has an excellent setting for the EQ, with individual frequencies to choose. Also, there's no skip at all. ever.
UPDATES: A new CD player again. Now it has a Pioneer DEH-4600MP. This one plays MP3 cds. Changed my 17 audio cds for 2 MP3 cds. I replaced the headlighs because the old ones had gotten water inside, so they were not lighting the road so well.