If you don't see a frame with a list of cars at the left, click here.

Acura RL 2005
---
Price $48,900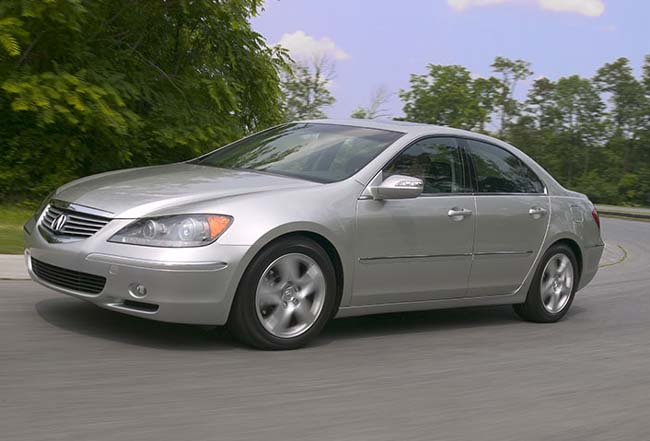 SPECIFICATIONS:
Engine type: SOHC VTEC 24 valve V-6
Displacement: 3.5L (3471cc)
Power: 300 bhp
Torque: 260 lb.-ft.
Redline: 6800
Transmission: 5 speed auto w/ sequential shifts
Click here to see more specifications
PERFORMANCE:
(computer simulated performance based on specifications)
0-60: 5.8 sec
0-100: 15.9 sec
0-150: 91.5 sec
1/4 mile: 14.3 sec @ 95 mph
Top Speed: 153 mph
Acura introduces an entirely new RL sedan for 2005 after 8 years of producing the current RL, since 1996. The RL redesign was more than overdue, since its introduction, the RL only had a facelift and few drivetrain and chassis updates. So for 2005, Acura has reinvented the RL with more power, more luxury, more style, more comfort, and more of everything. The new engine, based on the J-series engines from the Accord and TL, produces 300 bhp. That's the highest rating in any Honda/Acura vehicle sold in the US, and 75 more horses than the 2004 RL. With this new RL, Acura also introduces a new all wheel drive system dubbed Super Handling - All Wheel Drive (SH-AWD). From Acura's words, it is the first AWD system enhanced especifically for handling. Basically, this is like an ATTS system (the one found on the Prelude SH) hooked to the rear wheels, which sends power (up to 80%) to the wheel that will provide the best cornering for the car. Price should stay close to the previou's RL's price, that is somewhere north of $45,000. Should be a bargain compared to the other sedans in this segment. Just don't expect the RL to compete with the Lexus LS or BMW 7-series.