If you don't see a frame with a list of cars at the left, click here.

Acura RSX Type-S
---
Price $23,500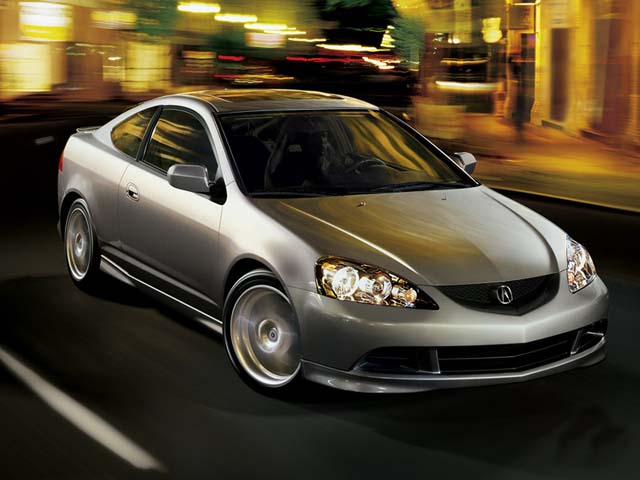 SPECIFICATIONS:
Engine type: DOHC 16 valve I-4 i-VTEC
Displacement: 2.0L (1998cc)
Power: 210 bhp
Torque: 143 lb.-ft.
Redline: 8100 rpm
Transmission: 6 speed manual
Click here to see more specifications
PERFORMANCE:
0-60: 6.9 sec
0-100: 16.6 sec
0-150: n/a
1/4 mile: 15.1 @ 94.9 mph
Top Speed: 143 mph
This is Honda's latest iteration of the Integra, now using the alphanumeric designation as the rest of the Acura line up. Compared to the previous Integra, it boasts an endless list of improvements and new changes. Starting from the engine, the Type-S has 200 bhp compared to the GS-R's 170 bhp, while the base RSX gets 160 bhp from the same powerplant. This was accomplished by installing a new engine that is 0.2 liters bigger than the other one. This engine is the first in an Acura to get Honda's improved VTEC system, dubbed i-VTEC. I'm just not in the mood of explaining how it works, but it does a wonderful job at what it's doing. Performance is up by GS-R standards, but it is still beaten by the lighter Type-R. Yet, that Type-R has a new son too. The Acura RSX Type-R. But we are not here to talk about the Type-R. We are here for the RSX Type-S. With the suspension, Honda decided to go with a strut type suspension up front. This has led to many comments about the handling of the car. But you must remember that the great handling BMW's carry that strut suspension too. All in all, the new RSX rises expectations on performance, while also adding some comfort to it. For owners of slammed Civics and Integras, this RSX will take some time to love, but it will surely win their hearts after all. Now on to the Type-R.
UPDATE: For 2005, the RSX gets an upgrade. The engine now produces 210 bhp and 143 lb.-ft. of torque, and redline has been upped to 8100 rpm. It has bigger sway bars and tires are now 215/45R-17. Yes, that means 17" wheels for the Type S, while the base keeps the 16 inchers. The downside is added weight though, at 2840 lbs it's some 70 lbs heavier. Despite the added power and a 4.77 final drive ratio (versus 4.39 previously), don't expect it to be much faster than the 2002 model. Only slightly. 0-60 times might be a little slower because now 60 mph is reached until 3rd gear. Handling should be improved. Overall, it should be a few ticks faster in a race track.