If you don't see a frame with a list of cars at the left, click here.

Acura TL 2004
---
Price $33,500 (est)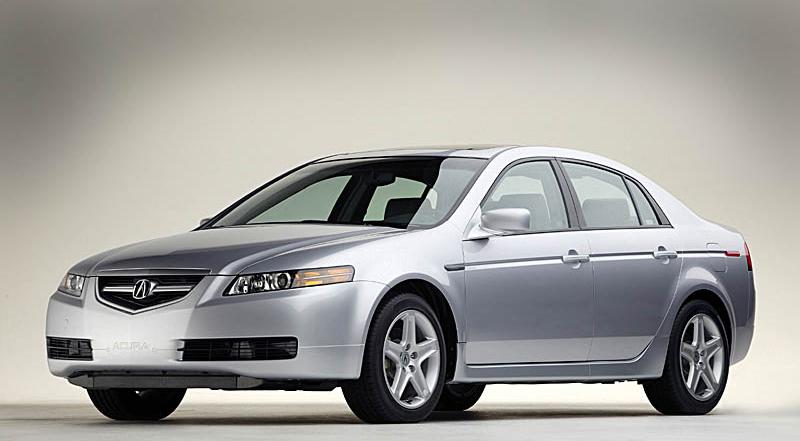 SPECIFICATIONS:
Engine type: SOHC VTEC 24 valve V-6
Displacement: 3.2L (3210cc)
Power: 270 bhp
Torque: 238 lb.-ft.
Redline: 6800 rpm
Transmission: 6 speed manual / 5 speed auto
Click here to see more specifications
PERFORMANCE:
0-60: 5.9 sec
0-100: 15.6 sec
0-150: n/a
1/4 mile: 14.6 @ 97 mph
Top Speed: 140 mph
The Acura TL, new for 2004, has been given some life. Previously, the TL was a conservatively styled and nice performing mid-luxury sedan. Now, it changes it's image to a more BMW 3-series oriented sports luxury sedan. New is a 6 speed manual transmission mated to the same 3.2 liter engine of the Type S, but upped to 270 bhp, 10 more than before. This is the only engine, which means even the base TL (if there's such thing) gets it. Styling has been changed completely to a more european look, much similar to it's smaller brother TSX in the front. In all, it looks much more aggresive. The manual transmission is the same found in the late 3.2CL Type S.
The chassis has also been tweaked to 24% more torsional rigidity compared to the previous model, and also the suspension is much better. There is the option of a Sport tire package which changes tires to a performance oriented type, while keeping the same size. For the sporty minded, this TL must be obtained with the manual tranny and sport tire package. The manual tranny also includes a limited slip differential to cope better with the delivery of the power to the wheels, a must have for a front driver.
The TL is still priced competitively at about $33,000 and I doubt Acura will have trouble selling it. But the competition is still very good, so Acura must not get too much confidence... remember that most of the competition has rear wheel drive or all wheel drive, which many consider a better option. But the TL remains one of the best options in its category. Very well done, Honda.