If you don't see a frame with a list of cars at the left, click here.

Acura TSX
---
Price $26,000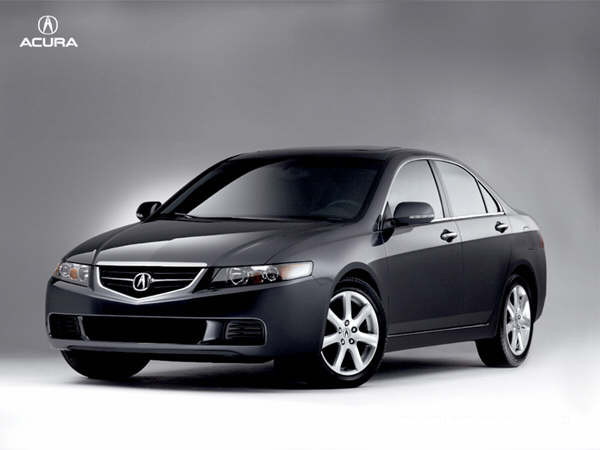 SPECIFICATIONS:
Engine type: DOHC i-VTEC 16 valve inline-4
Displacement: 2.4L (2354cc)
Power: 200 bhp
Torque: 166 lb.-ft.
Redline: 7100 rpm
Transmission: 6 speed manual / 5 speed auto
Click here to see more specifications
PERFORMANCE: (estimated based on specifications)
0-60: 7.4 sec
0-100: 18.2 sec
0-150: n/a
1/4 mile: 15.5 sec @ 91.7 mph
Top Speed: 145+ mph
For all of you who have always drooled over the european and japanese versions of the Honda Accord, you no longer have to suffer. Honda has decided that the North American market is worthy of this sporty sedan. Although it won't go by the name "Accord", this close brother of the US spec Accord will be sold as an Acura TSX. Power comes from a 2.4 liter 4 cylinder engine producing 200 bhp and 166 lb.ft of torque, helped by Honda's i-VTEC system for maximun power output at high RPMs, and good gas mileage at low RPMs. Power will be transmitted to the wheels via a 6 speed manual gearbox. You may have noticed that 0-60 mph seems a little slow, but that time is achieved with 2nd gear being shifted before 60 mph (redline limited), but could easily drop to 6.8-7.0 if 60 mph came before the 2-3 shift. Being an luxury Acura model, it has gained a bit of weight over the Accord. Acura claims a weight of 3230 lbs in their website, which is a bit disapointing for the 200 bhp. Still, like the RSX's engine, this one is expected to be producing a few more horses than what Honda has claimed. For people looking for alternatives to the Audi A4 and BMW 325i, the TSX might just cut it. It has luxury, space and all the sport you might need from this type of car.