If you don't see a frame with a list of cars at the left, click here.

Audi S4 Quattro (1999)
---
Price $40,450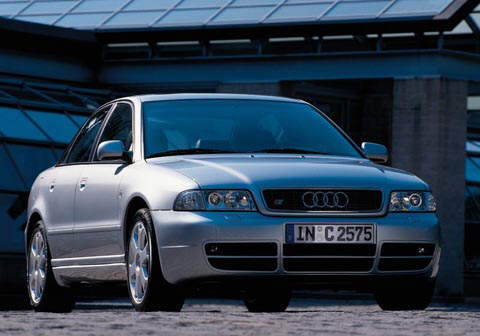 SPECIFICATIONS:
Engine type: DOHC 30 valve V6 twin-turbo and intercooled
Displacement: 2.7L (2671cc)
Power: 250 bhp
Torque: 258 lb.-ft.
Redline: 6800 rpm
Transmission: 6 speed manual / 5 speed Tiptronic
Click here to see more specifications
PERFORMANCE:
0-60: 6.2 sec
0-100: 18.1 sec
0-150: n/a
1/4 mile: 15.0 sec
Top Speed: 139 mph
Audi has been busy with it's line up to make some fast, good looking cars. Look at the TT for example. And there is a segment that seems to be growing every year. The sports sedans. With a base price of $38,000 it's obvious that Audi wants to compete against the BMW M3 Sedan, which by the way, will be replaced soon by a more powerful (320 + bhp) version based on the new 3-series body. The S4 wears wider tires (225/45ZR-17) to deal with the extra power and the all-wheel-drive system. To provide good day-to-day driving, Audi engineers wanted the engine to produce high torque at low revs, also aiming for quick throttle response, and they succeded. The S4 produces 258 lb.-ft. of torque at a low 1850 rpm, which translates into a 0-60 time of 6.2 seconds. Not bad considering the 3700 lbs of this car. Also helping with that is the 6 speed manual transmission, which helps keep the S4 on its power peak during hard acceleration. Even with it's heavy weight, the S4 handles with ease, although it's still behind of that of the BMW M3. With 0.84gs of lateral acceleration, it proves to be a great companion for the twisty roads.
To make sure there will be enough S4s on U.S. roads, Audi will send around 4000 - 5000 yearly to dealers.