If you don't see a frame with a list of cars at the left, click here.

Porsche Boxster




Price $42,284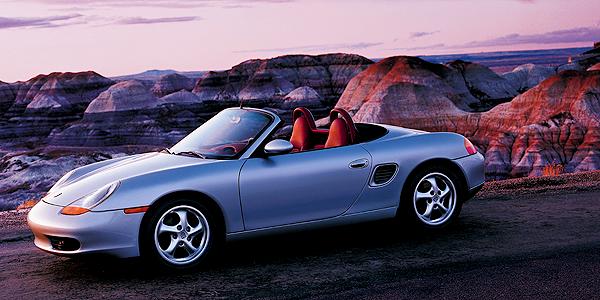 SPECIFICATIONS:
Engine type: DOHC 24 valves flat-6
Displacement: 2.7L (2687cc)
Power: 225 bhp
Torque: 192 lb.-ft.
Redline: 7000rpm
Transmission: 5 speed manual
Click here to see more specifications
PERFORMANCE:
0-60: 6.1sec
0-100: 15.4sec
0-150: N/A
1/4 mile: 14.7sec @ 97.7 mph
Top Speed: 148 mph
It's hard to believe that the Boxster is already three years old. Make that one three years young, because this open-air tourer is still a kid at heart. It's fun to drive. And it's every bit a Porsche, unlike earlier entry-level cars such as the 924, 944 and 968 which purists considered adopted members of this automotive family. Displacing 2.7 liters (up from 2.5 in 2000), the boxer engine's 217 bhp are capable of propelling the Boxster with 5-speed manual gearbox from 0-to-60 mph in 6.1 sec, and down the quarter-mile in 14.7 sec, perfect for a car whose competitors include the BMW Z3 2.8 and Mercedes-Benz SLK, but shorts of the performance Porsche buffs are accustomed to. The Boxster is a perfect open-top tourer for two. Its a true Porsche at a price ($42,284) that's very un-Porsche-like.
UPDATES: Boxster S is out. Take a look at it.
UPDATES: Power increases by 8 bhp for a total of 225 bhp, up from 217 bhp.