If you don't see a frame with a list of cars at the left, click here.

Volvo C70
---
Price $41,790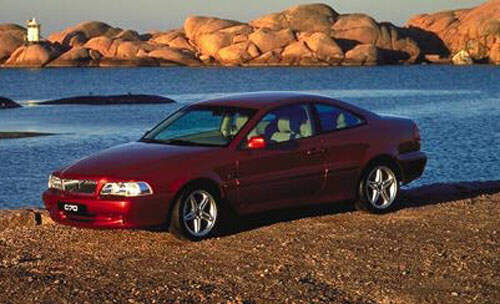 SPECIFICATIONS:
Engine type: DOHC 20 valves inline-5 turbo
Displacement: 2.3L (2319cc)
Power: 236 bhp
Torque: 243 lb.-ft.
Redline: 6000rpm
Transmission: 5 speed manual
Click here to see more specifications
PERFORMANCE:
0-60: 6.3sec
0-100: 15.8sec
0-150: 54.3sec
1/4 mile: 14.8sec
Top Speed: 155 mph
The common reaction to a first look at the Volvo C70 coupe is one of surprise. How could Volvo do that? It's too... well, too round and it's good looking! Well, yes. Should that be a surprise, what with Scandinavian design at all? The wonder is that is was penned by English-man Peter Houbury, and the English have done notoriously silly things with sheet metal.
Behind that classic Volvo grille is the same 236 bhp turbocharged and intercooled inline-5 as in the T5 sedans and 850 wagons. Maximum power is reached at 5,100 rpm with torque at 243 lb.-ft. from 2,700 to 5,100 rpm, for impressive flexibility and acceleration. Enthusiasts will delight in the availability of a 5-speed transimssion as well as the optional 4-speed automatic. A C70 convertible will arrive in the US in the spring of 1998 and will be powered by either a 190-bhp light presure turbo or the 236-bhp intercooled turbo engine. And expect a price of about $45,000. The only question remaining, however is wether the C70 is good because the Swedes could speak Horbury's English... or because Horbury had the ability to speak Volvo?