If you don't see a frame with a list of cars at the left, click here.

Porsche Cayenne Turbo
---
Price $94,980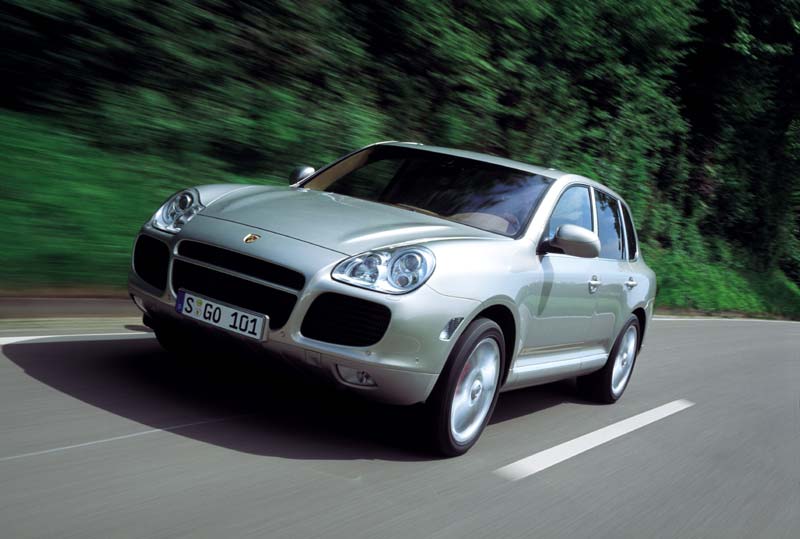 SPECIFICATIONS:
Engine type: DOHC 32 valve V-8 Twin-Turbocharged and intercooled
Displacement: 4.5L (4510cc)
Power: 450 bhp
Torque: 457 lb.-ft.
Redline: 6400 rpm
Transmission: 6 speed auto
Click here to see more specifications
PERFORMANCE:
0-60: 5.0 sec
0-100: 13.0 sec
0-150: 41.6 sec
1/4 mile: 13.5 sec @ 104 mph
Top Speed: 161 mph
Porsche's latest speed demon turns out to be an SUV. Yes, you read right, an SUV. So what's so especial about this SUV, besides the fact that it's made by Porsche, that sets it appart from the rest? Well for starters it's got a powerful twin-turbo V-8 (Porsche's first V-8 since the 928) packing 450 bhp and a 6 speed automatic transmission. A power-to-weight ratio of 12.7 lbs per horsepower and a 1/4 mile time of 13.5 seconds sugest that Porsche is heavily underrating this engine, which could be easily producing horsepower in excess of 550 bhp. So it's got speed right... but does it have the turning agility of other Porsches? Well, it posted an average of 0.82gs in the skidpad which is quite good for this type of car and it's weight, but not on par with sportscars. However anyone driving an SUV should know that they are not meant for the twisties. Which takes us to another question... can it handle off-roading? Well, it performs quite good, but it's not a strong point. However, light off-road duties can be excersised in this SUV. But you would have to be crazy to drive a Porsche off-road, don't you think? I'll have to say yes. So what's the point of this car? Mainly to satisfy all the customers who drive Porsches and also want an SUV, but don't like the sluggish handling Navigators and slow going Excursions. It's a people and stuff carrier from Porsche, and in that aspect, it might be a good SUV.