If you don't see a frame with a list of cars at the left, click here.

Mercedes-Benz CLK320
---
Price $44,988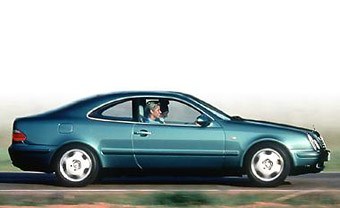 SPECIFICATIONS:
Engine type: SOHC 18 valves V-6
Displacement: 3.2L (3199cc)
Power: 215 bhp
Torque: 229 lb.-ft.
Redline: 6000rpm
Transmission: 5 speed auto
Click here to see more specifications
PERFORMANCE:
0-60: 7.2sec
0-100: 18.5sec
0-150: N/A
1/4 mile: 15.5sec
Top Speed: 130 mph
The CLK is a front-engine, rear-wheel-drive coupe, designed for four occupants and no more. There will be but one engine/transmission combination offered, but it too is all new and should prove ideally suited to the car. The 3.2-liter V-6, Mercedes-Benz's first is a scratch-built design with single overhead camshafts and a unique 3-valve-per-cylinder head design. The engine is all aluminium and is rated at 215 bhp. It works in concert with the new 5-speed automatic transmission. The rest standard Mercedes fare: a super-stiff chassis, fully independent suspension, 4-wheel disc brakes with ABS, attractive alloy wheels and a full complement of the safety engineering M-B is famous for. Mercedes will meet an unlikely foe in the coupe market this year: Volvo. The new, and exceptionally handsome, C70 coupe arrives on our shores for 1998, and the two have a lot on common, including the price range. Though the Volvo is front-wheel drive and can be had with either a stick of automatic transmission, the C70 and CLK will certainly be chasing the same buyers. Pay your price, and make your choice.
UPDATES: Mercedes has included a 4.3 liter V-8 that makes 275 bhp.