If you don't see a frame with a list of cars at the left, click here.

Bentley Continental T
---
Price $350,000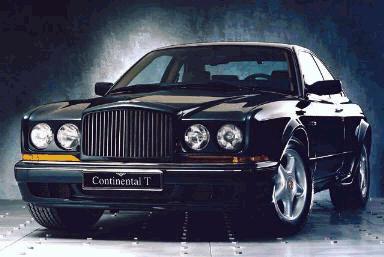 SPECIFICATIONS:
Engine type: OHV 16 valves V-8 turbo
Displacement: 6.8L (6753cc)
Power: 400 bhp
Torque: 590 lb.-ft.
Redline: 4500rpm
Transmission: 4 speed auto
Click here to see more specifications
PERFORMANCE:
0-60: 6.5sec
0-100: 16.5sec
0-150: 56.2sec
1/4 mile: 14.9sec
Top Speed: 155 mph
Despite its rarity, the Bentley Continental T feels very reminiscent of a vehicle well known to North Americans. The Bentley is a 400-horsepower car with 590 lb.-ft. of torque from its Garret-turbocharged 6.7-liter V-8. Its 5500-pound evelope contains enough leather to wrap an entire room. Even its headliner is leather, and very tall drivers will soon become familiar with it, owing to the limited headroom. With maximum torque tweaking the transmission shaft with close to 600 lb.-ft. at 2000 rpm, acceleration from a standstill feels as light and responsive as a car of half its weight. Bentley claims a 0-60 squirt of 5.8 seconds, but the best runs tested were of 6.5 seconds. The quarter-mile disappeared in 14.9 seconds at 97 mph. The downside of this stringent bodymotion discipline is a pretty hard ride. It just goes to prove that, even at $350,000, you can't have everything.