If you don't see a frame with a list of cars at the left, click here.

Mercury Cougar
---
Price $19,370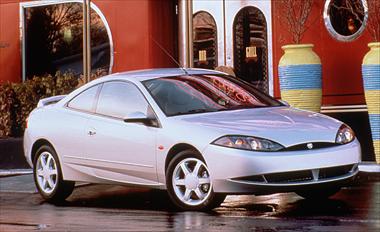 SPECIFICATIONS:
Engine type: DOHC 24 valves V-6
Displacement: 2.5L (2544cc)
Power: 170 bhp
Torque: 165 lb.-ft.
Redline: 6800rpm
Transmission: 5-speed manual
Click here to see more specifications
PERFORMANCE:
0-60: 8.0 sec
0-100: 24.3 sec
0-150: N/A
1/4 mile: 16.4 sec
Top Speed: 133 mph
It takes only two minutes behind the wheel to forget what two decades of padded vinyl roofs did to the Cougar. The new one, with its edgy styling, smooth, sinewy V-6, 5-speed manual transmission, and road manners that were bred in Europe, is much truer to the original Cougar (a more sophisticated stablemate to that great-granddaddy of American ponycars, the Mustang) than the bloated car that was mercifully put to sleep a model year ago.
Of course, getting a good look at the Cougar is difficult when it's being pushed briskly along country roads courtesy of the 2.5-liter Duratec V-6. The engine produces 170 bhp at 6,250 rpm and 165 lb.-ft. of torque at 4,250 rpm. While it is not the most powerful in its class, 90 percent of the available torque is on the table at 2,000 rpm, which enabled the 5-speed manual test car to sprint to 60 mph in 8.0 seconds. Engineers say the car is capable of 137 mph though when it was tested it topped 4 mph less, and the automatic tranny will top 125 mph.
Prices for the Cougar V-6 start at $18,095. Fully loaded, the Cougar costs more than $22,000. If only Mercury could figure out a way to let the Ford's Special Vehicle Team loose on the Cougar, they'd have one cool cat.