If you don't see a frame with a list of cars at the left, click here.

RENNTech E7.4RS
---
Price $290,000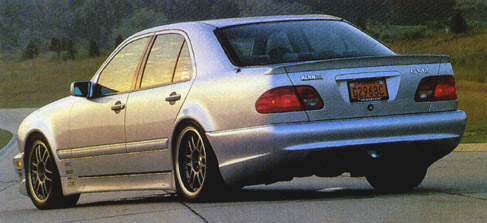 SPECIFICATIONS:
Engine type: DOHC 48 valve V-12
Displacement: 7.4L (7414cc)
Power: 620 bhp
Torque: 625 lb.-ft.
Redline: 6000 rpm
Transmission: 5 speed automatic
Click here to see more specifications
PERFORMANCE:
0-60: 3.9 sec
0-100: 8.6 sec
0-150: 19.9 sec
1/4 mile: 12.1 sec
Top Speed: 202 mph
Not much people get to drive a luxury car like a Mercedes E320. And a lot would give anything to drive an E55. Well, guess what comes next: a RENNTech E7.4RS. Faster than a Ferrari 550 Maranello and it can even race against a Ferrari F50. It is incredible that a 7.4L V-12 could fit in this chassis, maybe it is because the original engine was a straight six cylinder. Whatever the reason is, it brought a real fast car. It was tested by Car and Driver, I even think it was specially made for them. The only minus in this car was top speed, not to say that actual top speed isn't good, but it was expected to reach 212 mph. They only managed to reach 198 mph in the first test, where they found a speed limiter. Later they could manage 202 mph, and found again a speed limiter. Hartmut Feyhl, founder and president of RENNTech Performance Tuning, didn't want to give up until he made his car go 212 mph. Perhaps now he is still trying to fix the bug.
But wait, this car isn't just about speed. Luxury is wherever you see. Even the trunk hinges got to be leather covered. The price rised $35,000 only for the custom interior. And for those Mercedes E55 fanatics, LOVE THIS CAR!