If you don't see a frame with a list of cars at the left, click here.

Mitsubishi Eclipse GTS
---
Price $24,900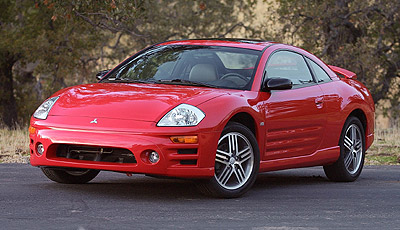 SPECIFICATIONS:
Engine type: SOHC 24 valve V-6
Displacement: 3.0L (2972cc)
Power: 210 bhp
Torque: 205 lb.-ft.
Redline: 6200 rpm
Transmission: 5 speed manual
Click here to see more specifications
PERFORMANCE:
0-60: 7.3 sec
0-100: 18.0 sec
0-150: n/a
1/4 mile: 15.2 sec @ 92 mph
Top Speed: 141 mph
Mitsubishi has been well known for building great sporty cars with turbo and 4-wheel drive. But this new Eclipse goes from the last generation's great little turbo coupe, to just another nice coupe in the market. The engine, which is more adecuate for a sedan, goes down on power from 210 bhp for the turbo to 205 bhp, and so does torque (214 vs. 205). Styling, in my opinion is not as good as its predecessor's. Not that I'm saying it's ugly, but it's a design that takes time to get used to.
Performance is below that of the old turbo, but on par with it's main competitors. With an estimated base price of around 21,000, its main competitors are the Acura Integra GS-R, the Volkswagen Golf GTi VR6, and the Mercury Cougar V-6. All except the Cougar provide virtually the same acceleration numbers. So it's up to you to decide if this car fills your requirements as a great sporty coupe, or if its just another nice coupe.
UPDATE: The Eclipse receives minor changes, which include a new front bumper, 5 more horses and a closer ratio 5 speed manual. The new tranny makes the 0-60 time slower because 60 mph are reached in third gear, whereas the last one did it in second. And the trim is now GTS instead of GT.