If you don't see a frame with a list of cars at the left, click here.

Mitsubishi Eclipse GS-T Spyder
---
Price $26,179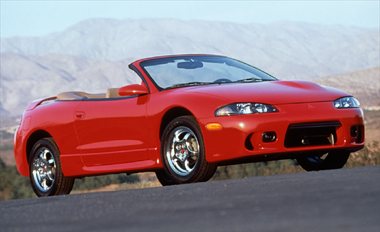 SPECIFICATIONS:
Engine type: DOHC 16 valves inline-4 turbocharged
Displacement: 2.0L (1997cc)
Power: 210 bhp
Torque: 214 lb.-ft.
Redline: 7000rpm
Transmission: 5 speed manual
Click here to see more specifications
PERFORMANCE:
0-60: 6.5sec
0-100: 17.0sec
0-150: n/a
1/4 mile: 15.1sec
Top Speed: 130 mph
If anyone offers a full line of sports coupes and convertibles, it's Mitsubishi. And they do it all within one model line, the Eclipse. There are seven different flavors available, from a straightforward frond-drive coupe to a 210-bhp turbo convertible (the one shown here). The Eclipse looks great with the top up or down, and the electrically operated fabric top is well finished and easy to use. This car is excellent for everyday driving. Competitors in the marketplace are many, from the outstanding Acura Type R to the Mustang GT. Mitsubishi offers the car in a plethora of configurations and with a large menu of stand alone options and equipment packages. Like the burger joint says: "Have it your way".
UPDATES: It has veen replaced by a less sporty, but more usable Eclipse. Check it here.