If you don't see a frame with a list of cars at the left, click here.

Lotus Elise
---
Price $34,600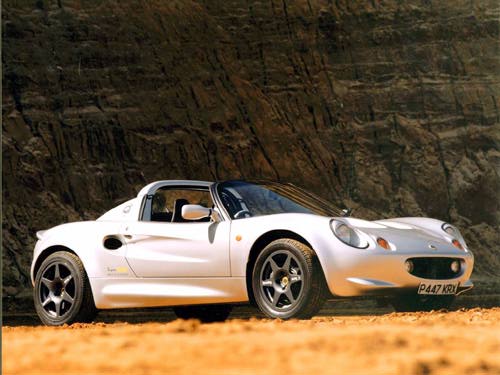 SPECIFICATIONS:
Engine type: DOHC 16 valves inline-4
Displacement: 1.8L (1796cc)
Power: 118 bhp
Torque: 122 lb.-ft.
Redline: 7000rpm
Transmission: 5 speed manual
Click here to see more specifications
PERFORMANCE:
0-60: 5.6sec
0-100: 17.1sec
0-150: N/A
1/4 mile: 14.4sec
Top Speed: 126 mph
Powering the Elise is Rover's 1.8-liter inline-4, mounted amidships, which also sees duty in another car. It produces 118 bhp at 5,500 rpm and delivers 122 lb.-ft. of torque at 3,000 -more than enough to pull the Elise's weight, which by the way, is an amazingly low 1,635 lbs. The engine is mated to Rover's 5-speed manual gearbox shifted though a long lever topped with a beautiful aluminium shift knob. Turn the ignition key, and the raspy hum of the 4-banger fills the cockpit. Put the shifter into 1st, step on the throttle and the Elise catapults off the line, chirping the rear 205/50R-16 tires. The engine runs out of revs just as the speedometer brushes past the 41 mph mark. slam! Second gear is met with a slight crunch and another chirp of the tires, but now the Elise begins to hit its stride. Third gear... 4th... 5th... it just keeps gaining momentum. In the U.K., the Lotus Elise sells for £20,000 (about $33,000), a remarkably affordable price considering its fun-to-drive quotient. This is what the last Elan should have been. It's as if the ghost of Colin Chapman redirected Lotus designers back on the right path. He would definitely be proud of this car.