If you don't see a frame with a list of cars at the left, click here.

Volkswagen Golf GTI VR6
---
Price $20,880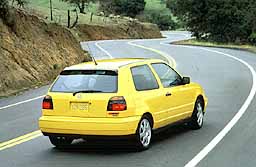 SPECIFICATIONS:
Engine type: SOHC 12 valves V-6
Displacement: 2.8L (2792cc)
Power: 172 bhp
Torque: 173 lb.-ft.
Redline: 6500rpm
Transmission: 5 speed manual
Click here to see more specifications
PERFORMANCE:
0-60: 7.0sec
0-100: 18.2sec
0-150: N/A
1/4 mile: 15.6sec
Top Speed: 130 mph
The V-6 in the GTI VR6 is unlikely any other, with a narrow, 15-degree V angle and a one piece cylinder head covering both banks of cylinder, again with two valves per hole. This is a superb engine, 172 bhp strong, smooth and wiling -- and fast, storming a 7.2 seconds, quicker than a V-8 equiped Taurus SHO. It's best competitors are the BMW 318ti, Nissan 200SX and maybe the Saturn SC2. But in my opinion the only real competitor is the Acura Integra GS-R (the faster Type R version is $4,000 more expensive). This is the car that matches more the bhp and acceleration times. Still in my opinion the Integra is better, but a lot of people prefer the Golf. But either car is good enough to satisfy the driver. Although the Golf line is destined to be updated with a new, fourth-generation model at the end of 1998, the current one remains a perfecly good place to misspend your youth.
UPDATES: The fourth generation Golf GTi VR6 is out and it becomes even better. I'll have it replaced sooner or later.