If you don't see a frame with a list of cars at the left, click here.

Honda Civic Si
---
Price $19,300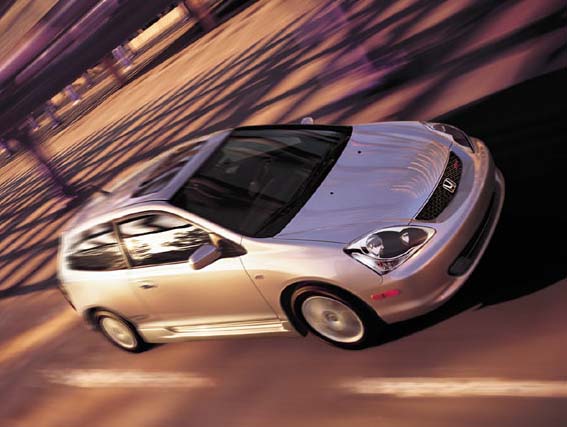 Honda Civic Si, shown with Factory Performance Package.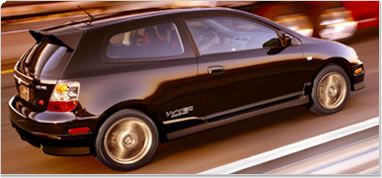 SPECIFICATIONS:
Engine type: DOHC VTEC 16 valve inline-4
Displacement: 2.0L (1998cc)
Power: 160 bhp
Torque: 132 lb.-ft.
Redline: 6800 rpm
Transmission: 5 spped manual
Click here to see more specifications
PERFORMANCE:
0-60: 7.6 sec
0-100: 21.6 sec
0-150: n/a
1/4 mile: 16.2 sec @ 88 mph
Top Speed: 137 mph
While one could argue that any car in hatchback configuration would be ligher than its sedan or coupe sibling, it just doesn't hold true for the 2002 Civic lineup. The new Civic Si comes only in hatchback form, rather than coupe like last year's (which by the way, was the first Si to show up in an other-than-hatchback configuration since its introduction in 1986). The new 2001 Civic EX coupe weighted around 2570 lbs. which was OK for a car of that size, but this new Civic Si tips in the scales at around 2750 lbs. As you should know by far, weight is an enemy of performance. It just means slower acceleration, lesser handling, etc. It's true that the new engine is bigger and has more torque (21 lb-ft more than the previous), but power remains the same at 160 bhp. Sure it will struggle less to build speed, but it will be carrying more weight, and so acceleration will be affected. My opinion is that the new Si will get it's ass kicked in the drag strip or the racetrack, but you will be more confortable driving this one due to it's much stiffer chassis and better dynamics. Still, I once said that the last generation Si was the car for me... and certainly the new one will not take that place.
UPDATE: For 2004, the Civic Si received some exterior changes, most notably, headlights and tailights. Performance-wise, it gets bigger wheels and tires for better road adhesion. Wheels are now 16" shod with 205/55 tires. Hopefully this takes care of the handling issues. Acceleration remains equal. Also, there is a Factory Performance package available that includes a body kit, suspension tuning, and better tires... so you get an Si that can handle like an Type R.