If you don't see a frame with a list of cars at the left, click here.

Honda NSX-R
---
Price $100,000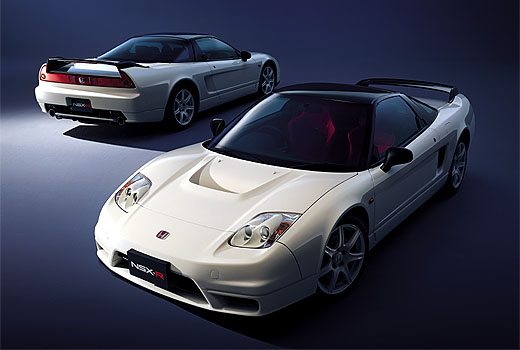 SPECIFICATIONS:
Engine type: DOHC VTEC 24 valve V-6
Displacement: 3.2L (3179cc)
Power: 276 bhp
Torque: 224 lb.-ft.
Redline: 8000 rpm
Transmission: 6 speed manual
Click here to see more specifications
PERFORMANCE:
0-60: 4.5 sec
0-100: 10.2 sec
0-150: 25.6 sec
1/4 mile: 12.9 sec @ 111 mph
Top Speed: 175 mph
Forget the Acura NSX. As usual, the japanese get a better version of every car sold by Honda to the United States. Take this NSX-R for example. You have seen what the R means in the Integra. It means raw performance from a lightweight counterpart and a suspension tweaked for the track. In the NSX-R, Honda has put all the technology it can in one of the most fabulous exotics on the US roads. What is better from this NSX-R than the "tame" NSX sold in the US is a more aerodynamic body, suspension enhancements, about 200 lbs less of weight, better seats, etc. While it retains the same engine with the same output as the US version (Japan has a "gentleman's agreement in which power should not exeed 276 bhp, but this engine, like many others, is underrated), the NSX-R will outperform several of the more expensive exotics from Italy and Germany in a racetrack. It's time at the Nurburgring racetrack is equal than the time of the 360 Modena, and much faster than any 911 Carrera. It was pitted against 5 other supercars in a racetrack, where it diced the whole race against a 580 bhp Lamborghini Murcielago. While the Lambo was clearly faster in the straights, in the turns all the Lambo could do was hope for a straight long enough to catch up again. All in all, this car must definitely be the best japanese production sports car to hit the road. All with modest power and the experience Honda has gained over the years of racing. It's a shame the US does not get the ultimate NSX.