If you don't see a frame with a list of cars at the left, click here.

Subaru Impreza WRX STi
---
Price $31,520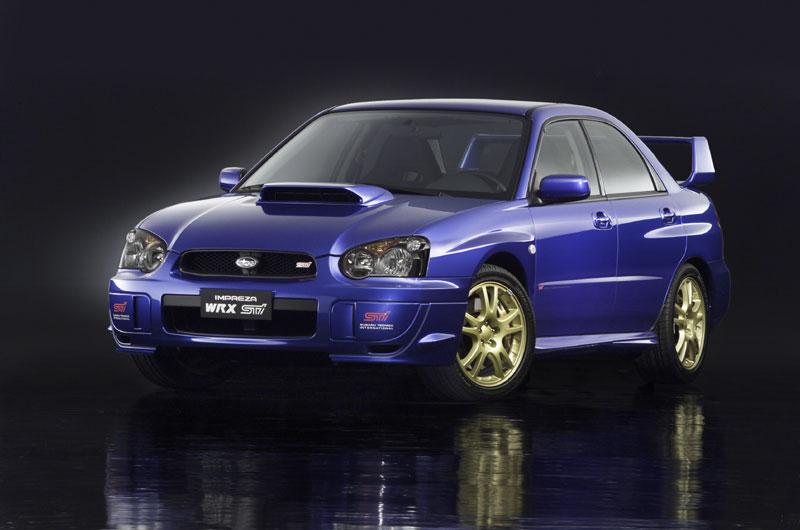 SPECIFICATIONS:
Engine type: DOHC 16 valve Flat-4 turbocharged and intercooled
Displacement: 2.5L (2457cc)
Power: 300 bhp
Torque: 300 lb.-ft.
Redline: 7000 rpm
Transmission: 6 speed manual
Click here to see more specifications
PERFORMANCE:
0-60: 4.6 sec
0-100: 12.4 sec
0-150: n/a
1/4 mile: 13.2 sec @ 103 mph
Top Speed: 145 mph
Joining the Lancer Evolution for the rally car battle in the US is Subaru's well known Impreza WRX STi. At 300 bhp, it's supposed to be more powerful than the japanese version. While the already well-selling WRX has a 5 speed manual, the STi goes about it's duty with a 6 speed manual with closely spaced ratios. Acceleration to 60 mph matches that of much higher dollar sports cars thanks to an asphalt hugging all-wheel-drive system. Compared to the Evolution, the STi is a few ticks faster in acceleration, but the Evolution has better handling, enabling the Evo beat the Subaru in a twisty road, even with the lack of 29 horses. However, you can't go wrong with the Subaru, it still has plenty of power and a ride more comfortable than that of the Evolution. At $31,520 as a base price, the Subaru is almost 2 grand more expensive than the Evolution, but you be the judge at deciding if they are worth it.