If you don't see a frame with a list of cars at the left, click here.

Subaru Impreza 2.5RS
---
Price $20,400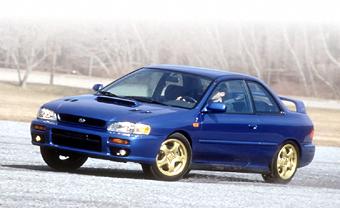 SPECIFICATIONS:
Engine type: DOHC 16 valves flat-4
Displacement: 2.5L (2457cc)
Power: 165 bhp
Torque: lb.-ft.
Redline: 6500rpm
Transmission: 5 speed manual
Click here to see more specifications
PERFORMANCE:
0-60: 8.3sec
0-100: 24.3sec
0-150: N/A
1/4 mile: 16.4sec
Top Speed: 124 mph
The 2.5RS is the Hot Rod of the entire Subaru line. Not just looking the part, the lightweight coupe scoots with the 2.5-liter 165 bhp boxer engine (162 lb.-ft. of torque). A 5-speed manual transmission with short-throw linkage is standard; a 4-speed automatic is optional but is out of place. Pocket rocketry is rarely cheap, and that's certainly true here. An Impreza L coupe starts about $16,000, and the 2.5RS will run you "about $20,000" according to Subaru. That figure includes a decent inventory of standard equipment -a power sunroof, a AM/FM/cassette audio, air conditioning, power windows, mirrors, and locks- but it's pretty pricey for a subcompact. The same money will bolt you into a GTI VR6. The GTI is a little quicker. But guess what? The Subie is more fun. Better hurry, though. Subaru plans a total production run of just over 600 Impreza 2.5RS.