If you don't see a frame with a list of cars at the left, click here.

Vector M12
---
Price $184,000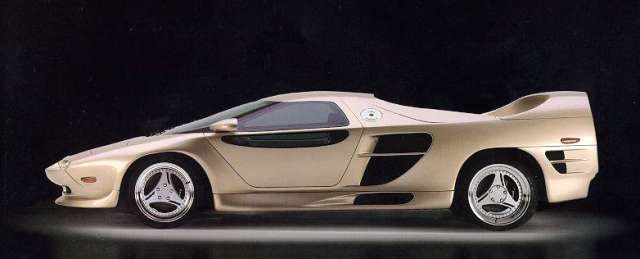 SPECIFICATIONS:
Engine type: DOHC 48 valve V-12
Displacement: 5.7 (5707cc)
Power: 490 bhp
Torque: 425 lb.-ft.
Redline: 7600rpm
Transmission: 5 speed manual
Click here to see more specifications
PERFORMANCE:
0-60: 4.8sec
0-100: 10.1sec
0-150: 32.0sec
1/4 mile: 12.8sec
Top Speed: 190+ mph
Twist the Vector's key and the V-12 bursts to life, sounding exactly like the Diablo: a frenzied roar at idle with slightly delayed bursts of trombone wail if you punch the throttle. With its roar, hip-high line of sight and tut, heavily damped suspension, the M12 has the aura of an earlier-era exotic car. The Diablo comes to mind, but mayby more so, the old Countach. It's an elemental car, provoking that corner of the brain that prefers violence over mature negociation. Don't associate the M12 with the delicate Ferrari F355, for instance; the M12 is a raw shotgun blast. Or a 5000-rpm clutch drop while throwing loose the reingns on 490 Lamborghini horsepower. The 0-60 mph time of 4.8 seconds is quick, but let me tell you that if the rev-limiter were raised just that much (postponing the 1-2 shift until after the 60-mph mark), the number would read a generously fast 4.4 seconds.