If you don't see a frame with a list of cars at the left, click here.

BMW M3
---
Price $43,000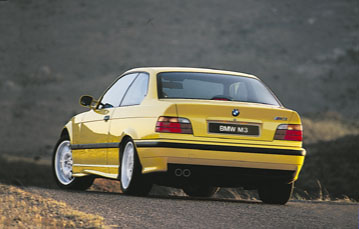 SPECIFICATIONS:
Engine type: DOHC 24 valves inline-6
Displacement: 3.2L (3152cc)
Power: 240 bhp
Torque: 236 lb.-ft.
Redline: 6800rpm
Transmission: 5 speed manual
Click here to see more specifications
PERFORMANCE:
0-60: 5.5sec
0-100: 14.2sec
0-150: N/A
1/4 mile: 14.0sec
Top Speed: 140 mph
On a comparison test of the "best handling car for more than $30,000" from Car and Driver, this car won the 1st place among 8 other cars including the $25,000 Honda Prelude SH, which won the 1st place in the less than $30,000 comparo. BMW's M3 was one of the least-expensive cars in the group. It was also the tallest and narrowest car and had the most-usable rear seat. It's first place finish proves that superb handling does not require exotic car packaging or exotic-car prices.
The M3's cockpit works naturally. The driver's seat offers a commanding view of the road and the hood's corners. Hands fall instinctively to the steering wheel and shifter, as do feet to the pedals. Heel-and-toeing is possible, and a dead pedal is included. An adjustable steering wheel would have been nice, as well as more lateral support, but these issues didn't get in the way of the adoration.
The M3 is like one of those mules that pull tour duty in the Grand Canyon, year after year: It isn't capable of a misstep. This car lets you seek out its limits quicker and more confidently than any other car on the road. If that doesn't make for a winning handler, then I don't know what does.
UPDATES: New 3-series makes debut as 1999 model. Expect the new M3 to be powered by the same engine with the same output (more than 320 bhp) from the European spec M3.