If you don't see a frame with a list of cars at the left, click here.

Nissan Maxima SE
---
Price $25,989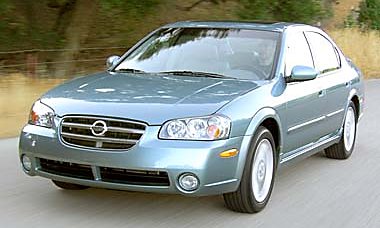 SPECIFICATIONS:
Engine type: DOHC 24 valve V-6
Displacement: 3.5L (3498cc)
Power: 255 bhp
Torque: 246 lb.-ft.
Redline: 6600 rpm
Transmission: 6 speed manual
Click here to see more specifications
PERFORMANCE:
0-60: 6.0 sec
0-100: 15.7 sec
0-150: n/a
1/4 mile: 14.7 sec @ 97 mph
Top Speed: 145 mph
The Nissan Maxima SE has been a favorite among car enthusiasts in the family sedan segment for quite some time. It is among the only ones to offer a powerful V-6 engine mated to a manual transmission. It wins me over only with that. The all-new for 1999 Maxima not only makes the engine more powerful but also the only engine available. That means that the base model with the fewest features is the fastest because it is carrying less weight. Although the acceleration numbers for the BMW 328i are faster to 60 mph, the Maxima pulls ahead after 80 mph to an ungoverned 143 mph top speed. It should give the 328i a run for its money. But the Maxima was not only improved on the engine, it also comes with a new, better-looking interior, better ride, and other revisions that make it far better than the old one. The SE, starting at about $24,700, is well equiped and should provide good reliability, performance and confort that matches other cars in a higher price range. Remember after all, that the Infiniti I30 is based on this car.
UPDATES: Power has been upped to 255 bhp from the previous 222 bhp, and also the manual tranny gets one more gear.