If you don't see a frame with a list of cars at the left, click here.

Mercedes-Benz CL65
---
Price $178,220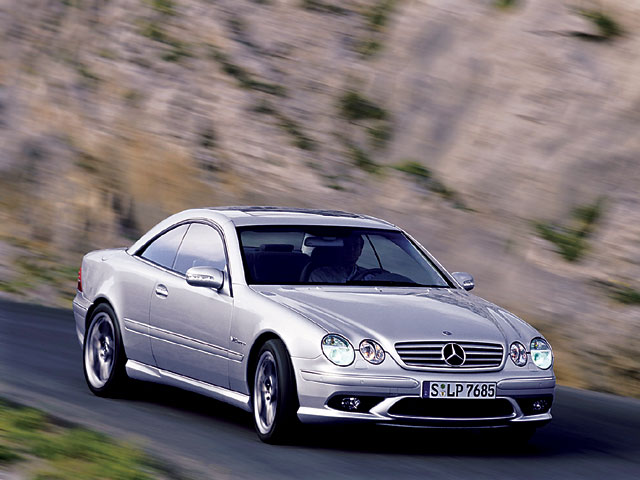 SPECIFICATIONS:
Engine type: SOHC 36 valve V-12 twin-turbocharged and intercooled
Displacement: 6.0L (5980cc)
Power: 604 bhp
Torque: 738 lb.-ft.
Redline: 6000
Transmission: 5 speed automatic
Click here to see more specifications
PERFORMANCE:
0-60: 3.9 sec
0-100: 9.6 sec
0-150: 23.6 sec
1/4 mile: 12.3 sec @ 115 mph
Top Speed: 155 mph
So this is what you get when you want a luxury coupe from mercedes with the in-house tuner AMG letters attached to it. This is truly a masterpiece. If you think the McLaren SLR is better still, consider that this coupe has a V-12, while the SLR has a V-8. The SL65 has 738 lb.ft of torque, and the SLR makes do with 575 lb.ft. And then, there is horsepower, which is rated at just 13 bhp less than the SLR. Oh, and did I mention that its price is less than half the SLR's price? Well, there you go. Now, this car is about 800 lbs heavier, but it still hauls ass, crossing the 1/4 mile at 12.3 seconds, which is only half a second slower than the expected time of the SLR. Somehow, I get the feeling the guys at Mercedes want to compete against themselves. And it seems Mercedes is winning its self-battle.
As is with all AMG models, the extra performance doesn't stop in the engine compartment. It is also upgraded from the other CL models in suspension to make it handle better. If it had a manual option, it could easily go hunting for the Ferrari 612 Scaglietti or Aston Martin Vanquish.