If you don't see a frame with a list of cars at the left, click here.

Mercedes-Benz E55 (1999)
---
Price $73,302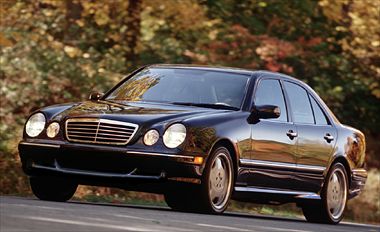 SPECIFICATIONS:
Engine type: DOHC 24 valves V-8
Displacement: 5.4L (5439cc)
Power: 349 bhp
Torque: 391 lb.-ft.
Redline: 6000 rpm
Transmission: 5-speed auto
Click here to see more specifications
PERFORMANCE:
0-60: 4.9sec
0-100: 12.1sec
0-150: 39.2
1/4 mile: 13.5sec
Top Speed: 158 mph
Mercedes Benz has always tried to make the perfect everyday supercar. Well, for starters the SL600 isn't bad at all, and the 600SEL is good too, but those car need more speed. Mercedes tried to do that with the SLK but it wasn't fast enough. Then it comes up with this car: E55. Now, this is a true everyday supercar. It competes mostly against the BMW 540i, still I give full credits to the BMW for giving the option of a manual transmission. Anyway, you can't get that much speed with all the comfort like this car anywhere else. Ok, ok, the NSX and XJ220 are good there, but you can't carry more than 2 people in them and also you won't get too far with a fuel sucking machine like the XJ220. Now some time ago, I thought that the Jaguar XJR was the fastest sedan with an automatic transmission, but this car changes all that. Now I declare the Mercedes E55 the Fastest Sedan with an automatic transmission.