If you don't see a frame with a list of cars at the left, click here.

Mercedes-Benz SLR McLaren
---
Price $450,000 (est)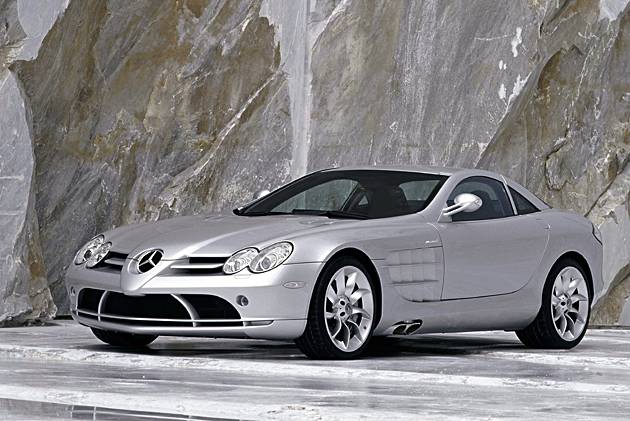 SPECIFICATIONS:
Engine type: SOHC 24 valve V-8 supercharged and intercooled
Displacement: 5.4L (5439cc)
Power: 617 bhp
Torque: 575 lb.-ft.
Redline: 7000 rpm
Transmission: 5 speed automatic
Click here to see more specifications
PERFORMANCE: (estimated performance)
0-60: 3.8 sec
0-100: 8.2 sec
0-150: 18.8 sec
1/4 mile: 11.9 sec @ 123 mph
Top Speed: 207 mph
Well, here we have what Mercedes-Benz and McLaren think will be the next big supercar to hit the roads. Ok, lets see if that is really the case then. Acceleration is impressive. But, is it really that good compared to other big stars? Mostly considering that its price is close to half a million dollars, you'd expect something more in the neighborhood of low 11s, not almost 12 seconds in the 1/4 mile. For that amount of money, McLaren should be looking to make the SLR lighter. 3800 lbs is too much for a supercar pretender. There's nothing special about this car that a 604 bhp Mercedes-Benz CL65 AMG can't do. And the CL65 costs about $180,000. And that's not even mentioning that the CL65 has a V-12, while the SLR has the V-8 found many AMG products. Now consider that if you plan to get the SLR. Besides, I think the CL65 is much better looking. The SLR's hood is horribly long and the side view is just horrendous. Looks like a shoe. No offense to the guys at McLaren, but my expectations were higher.