If you don't see a frame with a list of cars at the left, click here.

MazdaSpeed MX-5 Miata
---
Price $26,720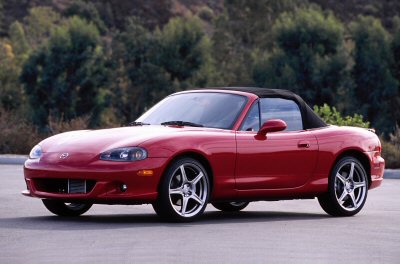 SPECIFICATIONS:
Engine type: DOHC 16 valves inline-4 turbocharged and intercooled
Displacement: 1.8L (1840cc)
Power: 178 bhp
Torque: 166 lb.-ft.
Redline: 6500rpm
Transmission: 6 speed manual
Click here to see more specifications
PERFORMANCE:
0-60: 6.5 sec
0-100: 17.4sec
0-150: N/A
1/4 mile: 15.0 sec @ 92.7 mph
Top Speed: 129 mph
Powering this new MazdaSpeed Miata is a 178 bhp version of Mazda's 1.8-liter DOHC four (up from 142 hp in normal Miatas). To extract the additional power, Mazda added a IHI ball-bearing turbocharger blowing 7.25 lbs of boost. The compression ratio was lowered half a point, from 10.0 to 9.5:1. In the process, maximum torque has improved from 125 pound-feet at 5500 rpm to 166 pound-feet at 4500 rpm. With added power, comes added handling, and the MazdaSpeed made it possible with larger wheels and tires. The Miata has always been a fun car to drive, but always lacked more power to compete with the latest sport compacts. However this added power now gives the Miata performance worthy of a small rear-drive roadster. Sixty miles per hour comes in just 6.5 seconds, compared to the previous high 7 second range, and the 1/4 mile in just 15 seconds, an improvement of almost one second from the n/a Miata. The transmission is a 6 speed manual with very short gearing. First gear tops at just 28 mph, and second gear at just 47 mph. In 6th gear, the Miata will get to its top speed at redline, topping 129 mph. Although the push in acceleration is thrilling, highway cruising could get a little annoying with the engine revving almost halfway at 70 mph in top gear. However, this is not a car meant for highway driving, it's all about fun and style, which the Miata surpass in every aspect. Priced just a few hundred dollars higher than a base Miata, the MazdaSpeed Miata is a bargain, one that performs better than a BMW Z4 2.5 with a price much lower. Now let's see if we can see a MazdaSpeed RX-8.