If you don't see a frame with a list of cars at the left, click here.

Mitsubishi Mirage LS Coupe
---
Price $14,330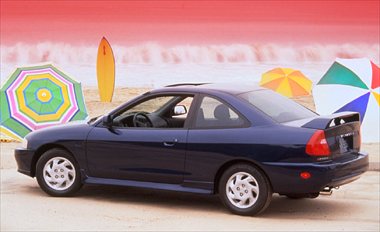 SPECIFICATIONS:
Engine type: SOHC 16 valve inline-4
Displacement: 1.8L (1834cc)
Power: 113 bhp
Torque: 116 lb.-ft.
Redline: 6500 rpm
Transmission: 5 speed manual
Click here to see more specifications
PERFORMANCE:
0-60: 8.6 sec
0-100: 24.6 sec
0-150: n/a
1/4 mile: 16.3 sec
Top Speed: 123 mph
Mitsubishi seems to be fairly notorious for making compact cars for the average budget, and this car is no exception. Although it may not be able to compete in horsepower with newer cars of its size, like the new Dodge Neon SRT-4, and although its engine may seem underpowered, it still pushes its 113 horses to the limit. Although not the lightest car around, at a weight of 2300lb's it certainly isn't heavy. The Mirage's total weight of 2300 lbs is even lighter then the slender 1998 Mazda Miata, at a weight of around 2620 lbs. This lightweight helps the Mirage move easily along with the help of just those 113 horses. The LS is a slight improvement over the ES, for those who have a little bit more cash and want a sportier look. It comes standard with a rear spoiler, a front lip extension, side skirts (all of which match the color of the car), fog lights and a 5 speed manual transmission. As well as coming with power windows, power locks, power steering, and several other handy features, for a little more fee you can get a power sunroof. The interior is quite spacious, considering the compact size of the car, and is comfortable for a car in its price range. As apposed to the mirage ES, this car comes standard with a 5 speed manual shifter. Unfortunately, no car is perfect. At high speeds, usually in excess of 65+mph, there is road noise and a few other minor issues. This car is a great investment if you are looking for a car that looks reasonably good and is reliable, affordable, as well as not taking much gas money. If this car still isn't as sporty as you would like, the smallest upgrades can make it look like a whole new car. Such as tinted windows, low profile tires, especial wheels, or a different spoiler. All in all, a great car by a great company.
-by Eric Baker