If you don't see a frame with a list of cars at the left, click here.

Mitsubishi Lancer Evolution VI (1998)
---
Price $30,000 (estimated)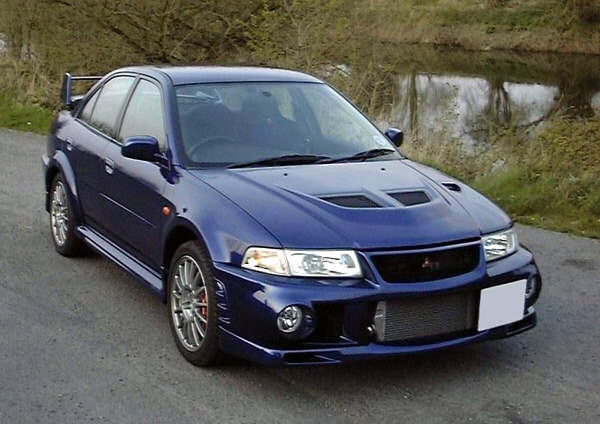 Image courtesy of Andy Sawyer. Click here to visit his website with more pics of the car.
Also visit the Mitsubishi Lancer Register for more info of all Evos to hit the road.
SPECIFICATIONS:
Engine type: DOHC 16 valve inline-4 turbocharged
Displacement: 2.0L (1997cc)
Power: 276 bhp
Torque: 275 lb.-ft.
Redline: 7000 rpm
Transmission: 5 speed manual
Click here to see more specifications
PERFORMANCE:
0-60: 4.4 sec
0-100: 12.2 sec
0-150: 40.3 sec
1/4 mile: 13.3 sec @ 105 mph
Top Speed: 155 mph
As far as I know, you are looking at one of Japan's hottest production cars, dressed in sedan body. This car is based on Mitsubishi's rally car, and it is one fast rally car. Power comes from a turbocharged unit developing 276 bhp (@ 6500 rpm?). Well, given the acceleration this car is capable of, I would say that the horsepower is more like 315, first because the peak horsepower is produced at 6500 rpm and the car has 275 lb.ft of torque, and second, because with 276 bhp, it is just impossible to do 13.3 seconds at the dragstrip. Remember after all, that in japan, manufacturers are voluntarily limited to 280 bhp, so it is possible they are lying about it. Too bad it never went to the US.
Stay tuned for the US spec Lancer Evolution very soon.