If you don't see a frame with a list of cars at the left, click here.

Ford SVT Mustang Cobra
---
Price $34,750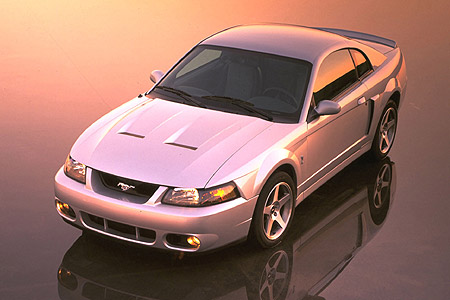 SPECIFICATIONS:
Engine type: DOHC 32 valve V-8 supercharged and intercooled
Displacement: 4.6L (4601cc)
Power: 390 bhp
Torque: 390 lb.-ft.
Redline: 6500rpm
Transmission: 6 speed manual
Click here to see more specifications
PERFORMANCE:
0-60: 4.5 sec
0-100: 10.4 sec
0-150: 30.5 sec
1/4 mile: 12.9 sec @ 111 mph
Top Speed: 155 mph
Forget the Camaro-Firebird battles. This new Cobra is aiming at Corvette territory. With 390 bhp, it's closer to the Z06, but it's weight keep it with the base Corvette. Still, that's not something to let pass by. First, to make a Camaro compete against this new beast, the base Corvette would have to be upgraded with more power so that the Camaro doesn't overshadows it. Yet that's not likely to happen since the Camaro and Firebird will cease production sometime soon. This new Cobra raises the bar with those 390 supercharged horses, although it wouldn't be a surprise to know that it's actually making 450 bhp considering that Ford want's to be conservative after it had to recall the previous Cobra to fix a horsepower problem.