If you don't see a frame with a list of cars at the left, click here.

Dodge Neon SRT-4
---
Price $19,995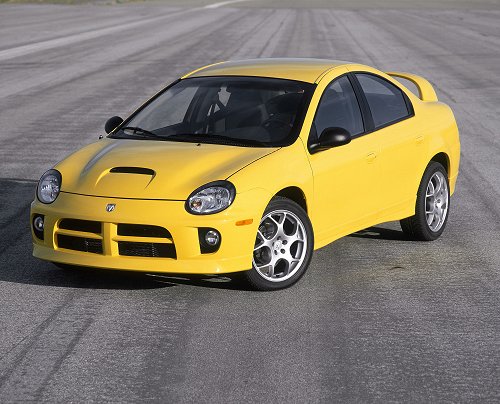 SPECIFICATIONS:
Engine type: DOHC 16 valve inline-4 turbocharged and intercooled
Displacement: 2.4L (2429cc)
Power: 230 bhp
Torque: 250 lb.-ft.
Redline: 6000 rpm
Transmission: 5 speed manual
Click here to see more specifications
PERFORMANCE:
0-60: 5.4 sec
0-100: 13.1 sec
0-150: 55.6 sec
1/4 mile: 14.0 sec @ 102 mph
Top Speed: 153 mph
What do I call this car? One Hell of a Bargain!!!! Dodge is drawing the lines with this little pocket rocket... and what a rocket it is... 1/4 of a mile in just 14.2 seconds at more than 100 mph! With a base price of a bit less than $20,000, this Neon packs one of the best bang for the buck in the market. It's engine has been force inducted with a turbocharger, which helps produce those 215 bhp and an astonishing 245 lb.ft. of torque. All that power moving 2883 lbs of this car is good news. What isn't good news is the torque steer you might expect with so much torque. And that's not the whole story... i'm willing to bet that the rated power of this car is much less than the real thing. It wouldn't be far from true if we say that it's producing north of 240 bhp (considering it's weight and speed). Anyway, Dodge can't be wrong with this car, and neither are you if you want to smoke some of the imports like the RSX and Civics out there (hurts to say that... trust me).
In just a few months from its introduction, Dodge brings a little more power to this car, now delivering 230 bhp and 250 lb.ft of torque, up 15 and 5 respectively. Acceleration improves just a little bit.