If you don't see a frame with a list of cars at the left, click here.

Honda Prelude SH
---
Price $25,700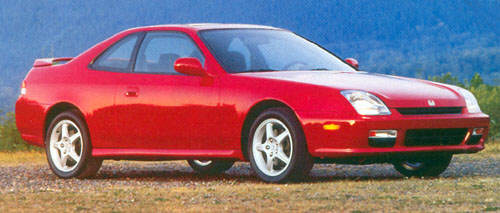 SPECIFICATIONS:
Engine type: DOHC VTEC 16 valves inline-4
Displacement: 2.2L (2157cc)
Power: 200 bhp
Torque: 156 lb.-ft.
Redline: 7500rpm
Transmission: 5 speed manual / 4 speed Sequential Sportshift automatic
Click here to see more specifications
PERFORMANCE:
0-60: 6.8sec
0-100: 17.9sec
0-150: n/a
1/4 mile: 15.2sec
Top Speed: 145 mph
Honda Preludes have been known for excellent handling since the second-generation model made its debut more than 15 years ago. And today's Prelude is no exception. With its new Active Torque Transfer System, it got a first place as "the best handling car for less than $30,000". The competition was among five other cars: an Eagle Talon TSi AWD, a Chevrolet Camaro Z28, a BMW 318i Sport, a Ford Contour, and a Mazda Miata.
The Prelude holds a Ph.D. in precision. The steering is sharp at all speeds, in all curves. Body roll is minimal, and squat and dive barely perceptible. Honda has facts and figures that demonstrate the virtues of ATTS in reduced steering input, reduced understeer, reduced yaw on a trailing throttle, and so on. The new Prelude continues to offer the attractive blend of virtues that makes it so like able: a screamer of an engine inside a nimble-handling, user-friendly coupe with a dash of Honda quality added to the mix.
UPDATES: Slight bump in horsepower to 200 (5 up from last years)