If you don't see a frame with a list of cars at the left, click here.

Plymouth Prowler
---
Price $39,000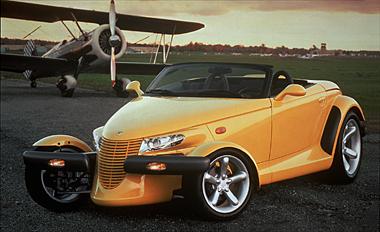 SPECIFICATIONS:
Engine type: SOHC 24 valves V-6
Displacement: 3.5L (3518cc)
Power: 253 bhp
Torque: 255 lb.-ft.
Redline:6500rpm
Transmission: 4 speed automatic
Click here to see more specifications
PERFORMANCE:
0-60: 6.0sec
0-100: 20.2sec
0-150: n/a
1/4 mile: 14.7sec
Top Speed: 130 mph (est)
It's hard not to grin when you drive the Prowler for the first time, the engineers at Chrysler must have been "Rodders" themselves to build such a breakthrough car. This may be the first real factory hot rod ever. The front wishbone suspension actually works as good as it looks. And the big rear rubber gives the back end the right look. Sure there's no V-8... yet. but the look, feel and sound are pure bred American Jazz. Be prepared to be the center of attention at every "Hot Car Nite" from now on!
UPDATES: More horses for this car means more speed. A jump from 214 to 253 bhp and some exterior changes.