If you don't see a frame with a list of cars at the left, click here.

Nissan R390 GT1
---
Price $1,000,000 (est)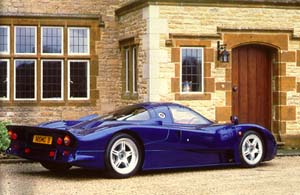 SPECIFICATIONS:
Engine type: DOHC 32 valve V-8 twin-turbo
Displacement: 3.5L (3495cc)
Power: 550 bhp
Torque: 470 lb.-ft.
Redline: 6500rpm
Transmission: 6-speed sequential
Click here to see more specifications
PERFORMANCE: (based on data from Nissan
0-60: 3.9sec
0-100: 7.0sec
0-150: N/A
1/4 mile: 11.9sec
Top Speed: 200 mph (est)
Intimidating doesn't begin to describe the driving experience of the Nissan R390 GT1. Despite its label as a "road car," this animal is a virtual clone of the R390 GT1 race car, developed on conjunction with Tom Walkinshaw Racing (TWR), that finished 3rd, 5th, 6th and 10th at Le Mans this year, with all four entries succesfully completing the rigorous 24-hour event. For Nissan, the R390's impresive showing at Le Mans was like recieving a dose of Viagra, providing it with a much-needed jolt of exitement that has recently been missing from the company. Now Nissan is keen to keep the ball rolling, anouncing plans for another Le Mans effort next year (without the help of TWR) and officially making the R390 GT1 road car available to customers for the cool price of $1 million.
Turn the ignition key, press the start button located on the center dash, and the engine scrams to life with vicious growl. The magnesium-block 3.5-liter twin-turbocharged V-8 mounted amidships delivers a whopping 550 bhp at 6800 rpm and 470 lb.-ft. of torque at 4400 to the rear wheels. This 32 valve powerplant comes mated to a transversely mounted 6-speed sequential gearbox that's shifted via a long aluminium lever on the center console. The theory is simple -push forward to downshift, pull back to upshift- however, once you're at speed on the racetrack, things can get mighty confusing in a hurry, especially if you're not accustomed to right-hand drive.
For those of us who yearn for the Nissan of old -when it produced attractive sports cars such as the 240Z and 300ZX- the arrival of the R390 is a symbol of hope that it will stir our souls and exite our enthusiasm.