If you don't see a frame with a list of cars at the left, click here.

Lexus SC400
---
Price $40,900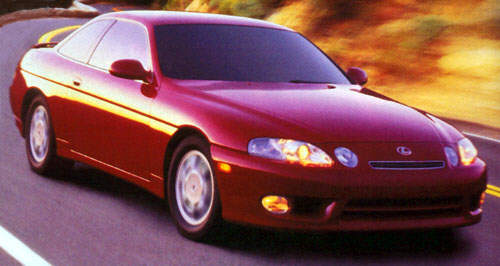 SPECIFICATIONS:
Engine type: DOHC 32 valves V-8
Displacement: 4.0L (4000cc)
Power: 290 bhp
Torque: 300 lb.-ft.
Redline: 6000rpm
Transmission: 5 speed automatic
Click here to see more specifications
PERFORMANCE:
0-60: 7.4sec
0-100: 19.6sec
0-150: n/a
1/4 mile: 15.7sec
Top Speed: 150 mph
How many years have you been driving that big 4-door sedan now? The kids moved off to college long ago. What are you doing hauling all that extra space and seats for anyway? Well, for all those of you who are more than over the empty-nest syndrome and could care less about schlepping your golf buddies to the country club, Lexus has a car for you -the SC400. Short on back-seat room, long on style, the big coupes aren't for the family man. But they're fast, fun, expensive cars. And for 1998, they are even better than ever. The 4.0-liter 32-valve V-8 now comes with the SC300's variable valve timing and now turns out 290 bhp, up 30 from last year. Torque is up from last year's 270 to 300 lb.-ft.
The SC400 may look the same on the outside, but it is substantially improved where it counts, underneath the hood. Which means you get the great styling that has always made the SC a treat to look at, but now it is backed up by a superbly capable engine.