If you don't see a frame with a list of cars at the left, click here.

Nissan Skyline GT-R V-spec
---
Price $55,200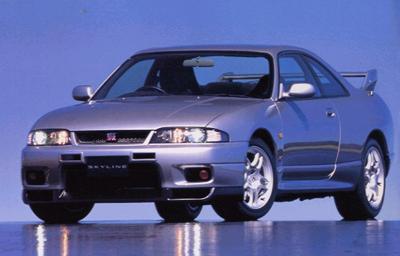 SPECIFICATIONS:
Engine type: DOHC 24 valve inline-6 twin-turbo and intercooled
Displacement: 2.6L (2568cc)
Power: 276 bhp
Torque: 271 lb.-ft.
Redline: 8000 rpm
Transmission: 5 speed manual
Click here to see more specifications
PERFORMANCE:
0-60: 5.3 sec
0-100: 12.9 sec
0-150: N/A
1/4 mile: 14.0 sec
Top Speed: 113 mph (governor limited)
Estimated Top Speed w/o limiter: 155 + mph
This car is sold only in Japan and Australia. I don't have much information, but I can tell you one thing: with it's 4wd layout, it handles really great. And you know what else? This is one of the cars that you can get to it's top speed at over 100 mph in less than 20 seconds. (Try that in a McLaren or Porsche 911 Turbo). The reason because it doesn't comes to America is because of a weird position of the engine that makes it almost impossible to make it a U.S. legal left-hand driving position. Anyway, it is supposed to come as a Infiniti in the near future. Let's see how they hack it.