If you don't see a frame with a list of cars at the left, click here.

Mercedes Benz SL600
---
Price $133,000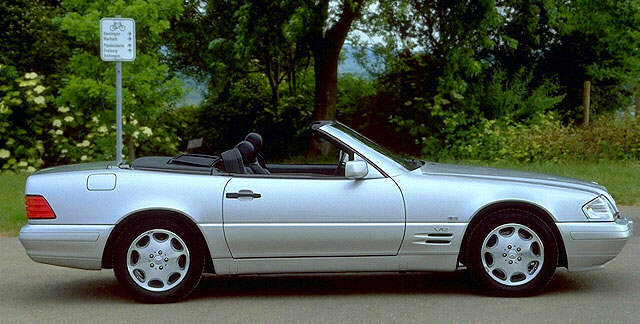 SPECIFICATIONS:
Engine type: DOHC 48 valves V-12
Displacement: 6.0L (5987cc)
Power: 389 bhp
Torque: 420 lb.-ft.
Redline: 6000rpm
Transmission: 5 speed automatic
Click here to see more specifications
PERFORMANCE:
0-60: 5.9sec
0-100: 14.2sec
0-150: 45.3sec
1/4 mile: 14.3sec
Top Speed 155 mph
This is one of the few cars known that meets its design goals in flawless fashion. The intent is to build a Grand Touring car with sufficient sporting character to make it fun to drive, whether playing the role of a boulevardier or an athlete. The price -$133,000- guarantees exclusivity in powertrain, if not in body shape. Yes, the SL600 looks like its less powerful SL320 and SL500 partners, but it boasts one of the most excellent engines you'll ever have the pleasure of driving, a powerplant that changes the character of the SL from a really good car to a sensational car.
The V-12 engine displaces 5987cc and incorporates an aluminium block alloy heads, double overhead camshafts and four valves per cylinder with electronically controlled variable intake timing. The result is 389 bhp at 5200 rpm and 420 lb.-ft. of torque at 3800 rpm.
The Mercedes-Benz SL600 is, the ultimate expression of sports luxury. No one will ever accuse this car of lacking everything. Inside and out the workmanship is first-rate and styling is elegant, yes, but with a muscularity that makes it look great thundering down a twist road, working hard and enjoying it to the max.
UPDATES: For 1999 the SL500 and 600 get rededigned instrument panel, steering wheel and shifter gate, plus body-color bumpers, rocker panels and door handles, taillights and 17-in. wheels.