If you don't see a frame with a list of cars at the left, click here.

Mercedes Benz SLK230
---
Price $42,800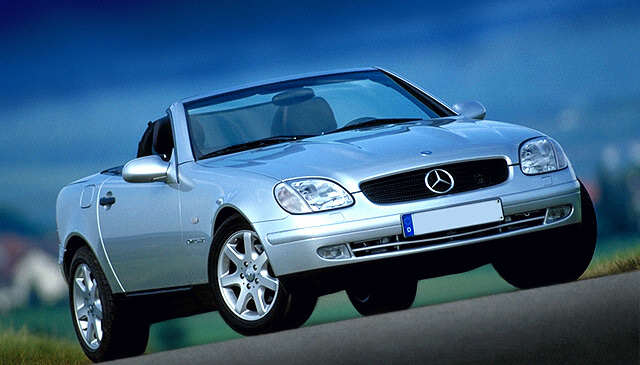 SPECIFICATIONS:
Engine type: DOHC 16 valves inline-4 supercharged
Displacement: 2.3L (2295cc)
Power: 185 mph
Torque: 200 lb.-ft.
Redline: 5800rpm
Transmission: 5 speed automatic / 5 speed manual
Click here to see more specifications
PERFORMANCE:
0-60: 7.2sec
0-100: 20.0sec
0-150: N/A
1/4 mile: 15.5sec
Top Speed: 144 mph
The concept for this car isn't Sports Car. The SLK is more like the slam-dunk champ in a league of one. The supercharged 185-horsepower four-cilinder romps to 60 mph in 7.2 seconds on the way to a 144 mph top end, the idea of Express performance. Yeah, the spunky shape is cuter than dimples, too.
But why isn't the SLK and sports car? Mostly, it's a personality thing. Sports cars this size are frisky critters, turning every drive into a cavort. The SLK, on the other hand, feels responsible, even circumspect, in normal driving. It delivers measured responses to your touch, more like a grown-up sedan. It's too refined to be crammed into the sports cars definition. When the roof is up, this roadster is a shake-free, draft-free, and roar-free in the manner of the best grand touring car, and GTs were always thought to be too mannerly to be genuine sports cars.
Still, there's a special joy about this SLK, and it has to do with the way it joins CUTE (Clever Utility Two-seater Express) as a concept with cute and as a mood. It spreads more grins than the Good Humor truck. One amused onlooker pointed to the chrome "kompressor" letered across the front fender and said, "What a funny model name."
UPDATES: The SLK gets a new 5-speed manual transmission as an option. I hope this makes it better.